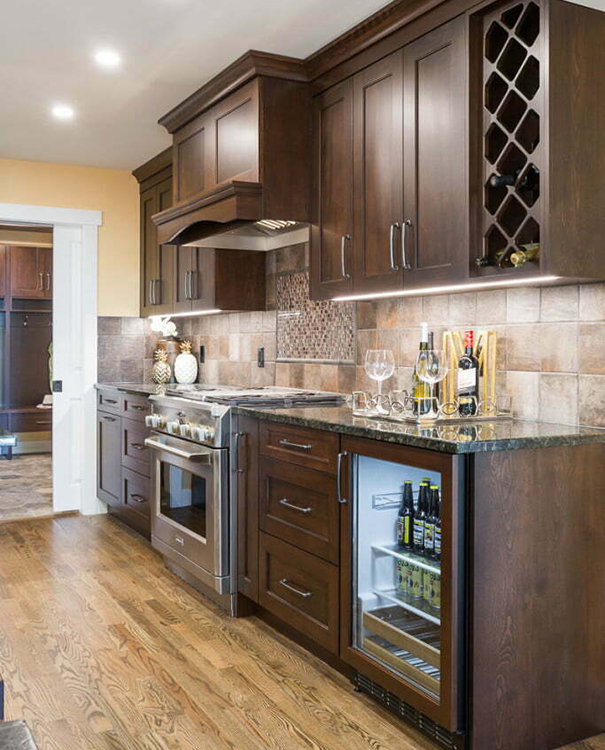 Calgary's Design + Build Renovator
At the heart of Pinnacle is Paul and his wife Elaine's steadfast belief in serving Calgary's families; by renovating and building homes for those whose focus is much more about return-on-lifestyle, vs on return-on-investment. Our ideal customer/family, values working alongside a team that delivers exceptional end results and insists on a written SCC Guarantee™ on timeline and costs. As importantly, our customers also value the care and passion our team represents for your family's wellbeing from first visit, to project completion, and that includes your Fur-Family too!
When Klassen looks at the company that he has spent over two decades building, shaping and growing, he asserts, "We focus on the family first; specifically, how each of them wish to live in their home both today, and in the future. Our vision is to positively affect people's lives through our proprietary Design + Build process with a culture of empathy, integrity, and sincere care for each family member. We aim for that culture to manifest from our initial meeting, all the way to the official 'Turnover' of your home; and hopefully by way of a true friendship for many years to come. Though we embrace all renovation projects; we especially enjoy transforming homes for those either living with a disability or for those who are setting their home up for a successful 'Forever Home' implementing Universal Design throughout their home. This simply means that you can now successfully Age in Place…we prefer to call this as living life to the fullest!"
With a distinct shift in thinking, our team has achieved nearly perfect 3rd party design satisfaction reviews  spanning nearly two decades. Those customer reviews have come about as a result of shifting from the all-too-common narrative of WHAT you want to DO to your home. Much more importantly, the questions should be around HOW you and your family want to live in your home. Asking the right set of questions via our proprietary DNA Doc has resulted in those 3rd party review scores; this shift in thinking becomes especially important when considering our Specialty; creating your Forever Home.
Paul sums up Pinnacle Group's success with this statement surrounding our team, "I truly believe that to have received the many kind Client letters, referrals, testimonials, and customer reviews can largely be attributed to our staff who embody Pinnacle's vision statement. That statement might be considered lofty, but is the creed we live by every day, and that is to positively affect each family member through their entire experience with Pinnacle. We assure you we aren't angels, but we honestly do strive to create MANY more smiles than frowns every day we interact with your family!"
Paul is one of the founding members of Calgary's RenoMark™ chapter, which is an association dedicated to providing consumers with access to ethical Renovation companies. He has served on the RenoMark™ Council for several years, including chairing the Council in years past, and continues to ensure his team is always abreast of the latest Renovation trends and building code developments.
But…again, Paul has pivoted with a shift in thinking, breaking away from the typical focus on Awards scored by peers, to NPS/Net Promoter Scores which are scored by the actual customer. To quote Warren Buffet (in NPS layman terms); "Always delight your customer."


Our journey with 3rd party Client Insight was not one of instant success; Pinnacle first opened our database to their interview process in 2004…long before Google Reviews! It has taken nearly two decades to continue to delight our customers resulting in calendar years 2020-2022 landing at 100% or in NPS terms 1.0.
We can assure you these NPS Reviews (actual phone interviews engaging with our customers) constantly point to areas where we can improve on our customer's experience. But, these post-completion interviews are also venues where our customers can leave a testimonial; this truly is so gratifying for our entire staff and trade team, as we are ALL scored…from our owner Paul Klassen, to each point of contact our clients have had through their renovation or build experience.