Building Your Dream Smart Home in Calgary with Pinnacle Group Renovations!
Smart home technology has come an exceptionally long way. The term "smart home" is no longer a novelty associated with hi-tech home security systems. In fact, smart devices have completely reinvented the accessible home industry and can help anyone aging in place, or living with a disability, live more independently, or simply added as a luxury for day to day living and convenience.
Until recently, those with physical disabilities and mobility issues relied heavily on expensive devices in order to live freely in their own space. As the idea of incorporating smart technology into everyday tasks becomes more common, the available tools that can be controlled by voice, or from a smartphone or tablet, have become more affordable and more accessible.
In Calgary, we've seen that adding smart home technology is quickly growing in popularity due to the added convenience, comfort and security of both able bodied and those living with a disability.
A home renovation is the perfect time to customize your living space and take advantage of the latest in smart home tech. Thanks to an industry that is constantly evolving, whole-home automation options are nearly limitless in 2021. Some larger upgrades often involve extensive custom design work, including hardwiring the electrical, so deciding to add smart home automation while you're already renovating can actually help to keep costs down.
According to a recent study conducted by the popular website Houzz, smart tech has become more of a priority for renovating homeowners as 28% of people questioned agree that it's among the top of their must-have lists. In upscale and luxury home construction, many smart features are now simply expected. Smart home technology can set your home apart from other options on the housing market, and potentially increase your property's value so be sure to take advantage by incorporating this convenient tech into your next reno project.
At Pinnacle Group Renovations, we work alongside companies such as Digital Lifestyles Inc and Sonata Design to create beautiful and intelligent spaces that support you and your connected lifestyle. Whether you are looking for a more convenient way to live, work, learn, play or augment your health from home, we have the solution and design for you. If you are disabled or live with someone that has a disability, you will absolutely understand how much freedom comes from being able to independently perform some of life's smallest tasks. Tasks that most people take for granted.
Here is a look at 6 smart home solutions that Calgarians are integrating into their homes today!
Smart Window Coverings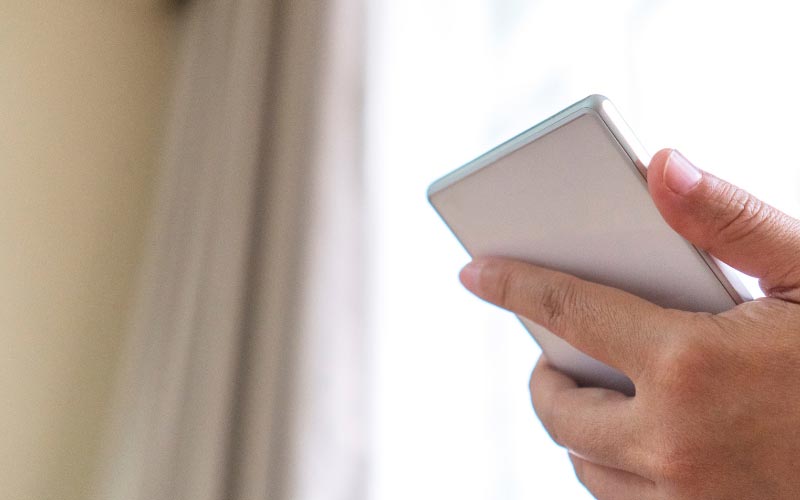 Operating blinds and curtains can be quite difficult for individuals with restricted mobility, or for those windows that are high and out of reach. This is where smart window coverings can help.
Smart window coverings can be opened or closed through an app or a voice command on your smartphone. They come in all different styles and can be hardwired or powered via battery, electrical cord, or even solar. The product range is massive and includes shades, shutters, and even drapery!
In addition to letting in and blocking out light, your smart window coverings can also help prevent heat loss in your home during our colder Calgary winter months, and shield against UV rays during our sunny YYC summers. Thanks to smart technology, your blinds will open and close when you tell them to by command, timer, or, in some cases, when the temperature in your home fluctuates above or below a desired range. You can even add sun sensors that will automatically open or close your window coverings depending on the amount of sunlight coming into the room.
Smart Lighting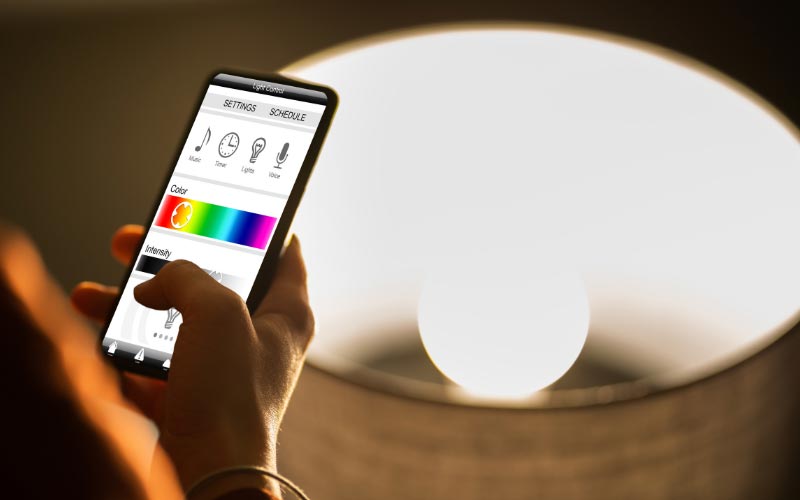 A lack of visibility in your home can be quite dangerous, especially for anyone living with a disability or limited eyesight. You can use smart lighting to not only address this safety concern and enhance accessibility in your home. Smart lighting is more than just being able to turn your lights on and off remotely. It allows you to control brightness levels to suit your needs and/or the time of day, and can also help you cut back on your energy usage. You can connect your smart lights to motion sensors which will automatically turn on or off the lights in certain areas of your home. Thanks to smart lighting, you're able to conserve electricity as well as your personal energy!  Smart lights are useful for just about everyone, however when we talk specifically about seniors or anyone living with a disability, it really becomes about safety and that is something more entirely.
Smart lighting solutions can also assist us with the concept of human centric lighting, which is growing in popularity due to physical and mental health benefits. HCL is a method of bringing natural changes of light intensity and colour temperature indoors by using artificial lighting to imitate natural light. Human centric lighting goes above and beyond the basic visual needs of lighting. It helps the body to stay aligned with natural circadian rhythms that we as humans have been conditioned with throughout our history.
Smart Smoke Detectors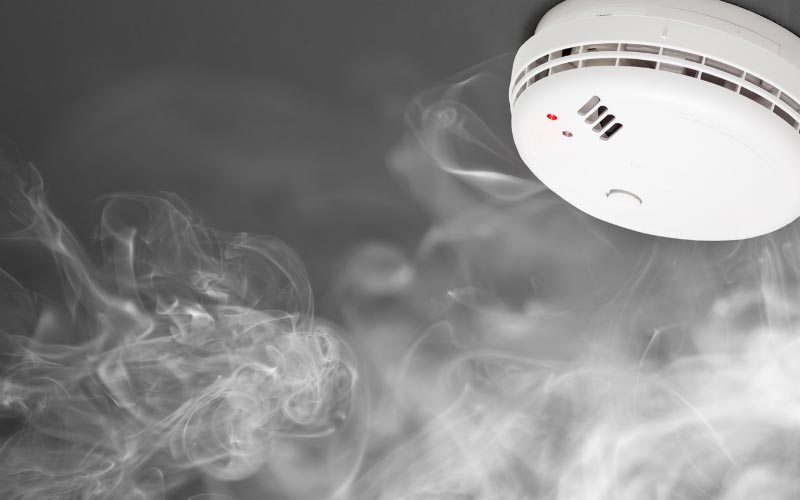 Everyone absolutely must have working smoke detectors in their home. A major concern for seniors living at home alone is whether or not they can hear their alarm in the event of an emergency, and how quickly they may be able to react to it. Smart smoke detectors not only deliver an audible siren inside the house, but they are also capable of sending out an alert to the smartphone of friends, neighbours, and caregivers.
Smart Doorbells
Census Canada recently reported that over 93% of seniors live in private dwellings, while under 7% live in collective dwellings, such as senior residences, long-term care (LTC) facilities or health care related facilities. Smart doorbells allow homeowners to see who's at their door without needing to go anywhere near the door. When connected to a smart device like a phone or tablet, the doorbell will automatically send an alert to the app of your choosing when someone arrives at the entryway, and even allow the homeowner to see and speak to the person. There have even been several instances where family members credit smart doorbells with saving a loved one's life.
Smart Entertainment Systems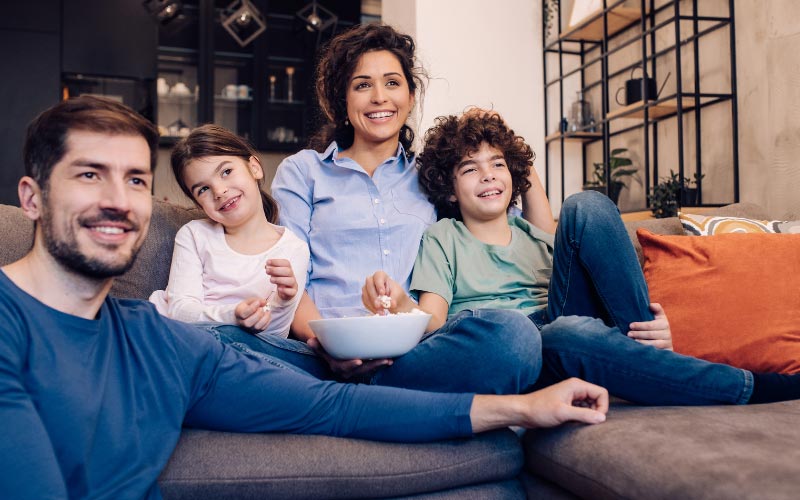 The growing popularity of whole-home automation has led to an explosion of smart home entertainment devices that are readily available for building a truly connected viewing and listening experience in your home. Smart entertainment devices allow you to control your home entertainment experience like never before through voice, app, and remote control from any room in the house. The era of "internet of things" (IoT), has opened up a number of options for your family's daily media intake. Stream a video to one room or several, listen to your favourite song in a select space or fill the entire house with your hottest playlist. Combining your home's other smart features will allow you to control the lighting, temperature and window fixtures and set the perfect mood for family movie night.
Remote Access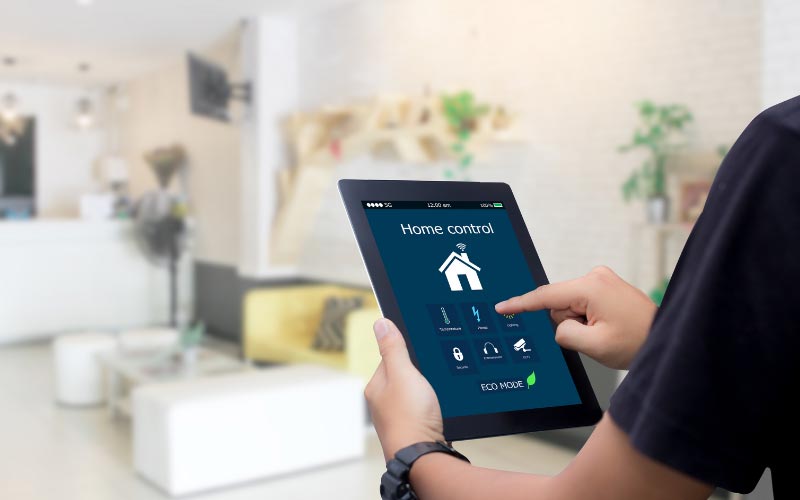 Remote access means all functions of your smart home system, including door locks, garage door, lights, viewing cameras and all on/off features are accessible from outside the home. (Wherever there is a high speed internet/3G/LTE connection). This allows caregivers and family members not present to assist and monitor the house whenever it is required. In addition, system changes, personalization and customizations to user preferences can be done remotely, which can eliminate inconvenient service calls and save you time and money.
In order to get the most out of your new connected lifestyle, your home will require a stable foundation that a custom network can provide. This will benefit your home's variety of smart solutions in a number of different ways including reliability, speed, and security.
When it comes to the latest in smart home solutions, Pinnacle Group Renovations and our talented partners have you covered. Contact us today to learn more about starting your own Calgary smart home transformation!