Calgary, Alberta Home Renovation Trends During a Pandemic
After a full year of lockdowns, social restrictions, no travel, and working from home, Calgarians have spent more than enough time under their own roof to begin noticing what they love and don't love about their current space. This means picking up on everything from small repair jobs that have been left on the backburner too long, to recognizing your family's new need for more space and privacy. Our homes which once functioned simply as a place for us to eat and sleep have now taken on a much larger role. Beyond providing us with shelter, they must now support our new virtual work & learn from home setups, while also offering a safe space to unwind and relax at the end of a long day or week. This has created a new delicate balance of work and play that our homes have not needed to accommodate in the past.
For homeowners who absolutely love their community and location, selling and uprooting is not something many are willing or wanting to do. The current low inventory/high demand climate of today's real estate market has made finding a "perfect" new home even more difficult for anyone willing to consider a move, and therefore, renovating or adding on to a current property is becoming an increasingly popular option.
In this month's blog, we will be discussing some of the hottest Calgary renovation trends that we have been seeing here at Pinnacle Group Renovations over the last year!
Dining In!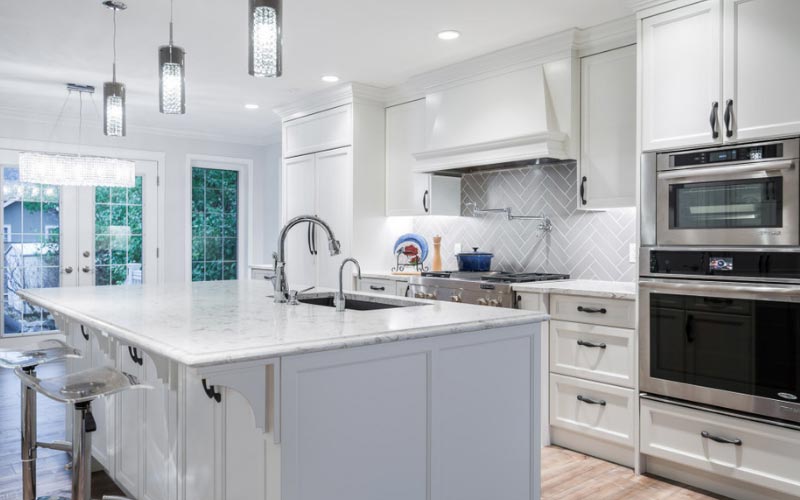 Kitchen renovations have always been one of the more popular projects, however, we have seen a significant jump in demand throughout this past year. With many of us choosing to limit our time spent in public places, and restaurants operating at lower capacity (or only offering takeout), we are dining out much less than before and preparing even more of our daily meals at home in the kitchen.
Kitchens are typically high traffic areas of our home, but over the past year, they have become an even busier hub in most households.  Meal prep, ZOOM calls, breakfast, lunch, dinner, and homework all happening in the same room have many families rethinking this space and looking for ways to improve it.
Most families are now wanting a larger, brighter, and more open kitchen. Functionality is priority and newer designs are being fitted with more equipment, bigger islands, and creative storage solutions to accommodate more of a mixed-use application.
Developing a Flex Space or Adding On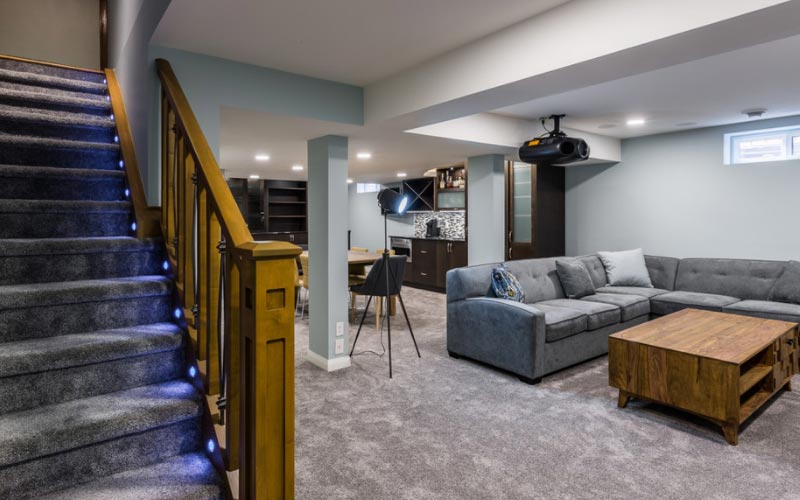 With the whole family spending more time at home, the need to maximize our living space has increased considerably over the last year. Some homeowners have decided that now is the time to complete those unfinished basements to help accommodate their family's need for more livable square footage. By developing a functional flex space, along with at least one other bedroom and full bathroom, your lower level can be converted into the perfect media room, or even a living space for your teenagers.
Those who already live in a fully developed house, but have expressed the need for more space, are now considering the option of adding onto their home through either lateral or vertical modifications. New additions are the perfect solution for those who love their home and location, but simply need more room. The conversation of building up vs building out will all depend on architectural style and property size. Since the start of the COVID pandemic, our homes have become our office, school, gym, and theater among other things, so ensuring everyone in the family has a comfortable and adequate amount of space is crucial. As per reports from large employers, the 'work from home' requirement during Covid has changed our world forever in how corporations are viewing work from home lifestyles. The need for more functional and larger spaces in our homes it seems is here to stay.
For our newly released 2021 Calgary Cost Guide for additions; check out our resource tab and download your own E-Book here! 
The Great Outdoors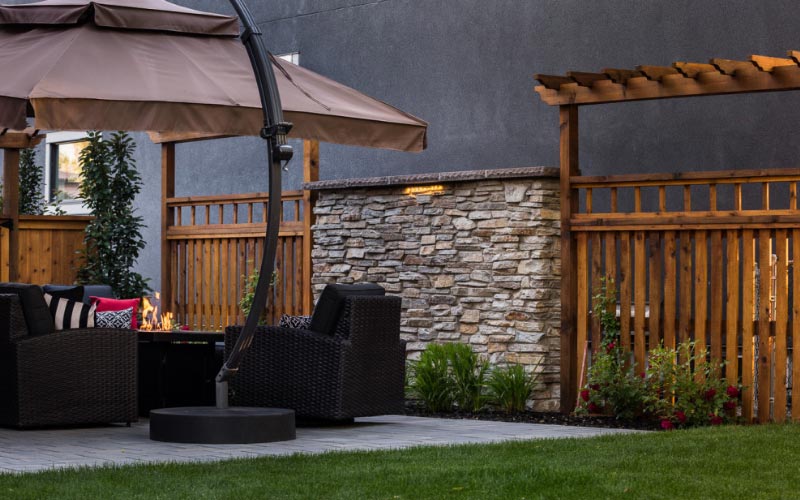 With most of our travel plans being put on hold, many Calgary homeowners have decided to make the most of the current situation and create the ultimate "staycation" retreats in their very own backyard. The best cure for cabin fever and the safest place to socially distance with friends or family is the great outdoors. So, what better place to spend your spring and summer days than in your own beautified yard?
Expansive decks & patios complimented by gardens, fire tables and comfortable loungers are all the rage right now as we head into our warmer months. It is definitely time to start having the necessary discussions about creating your perfect outdoor living space.  At Pinnacle Group, our industry leading skills don't start and end at your front or back door, our custom-built homes wouldn't be complete without stunning outdoor spaces to match, like this project shown HERE!
Work Out Whenever!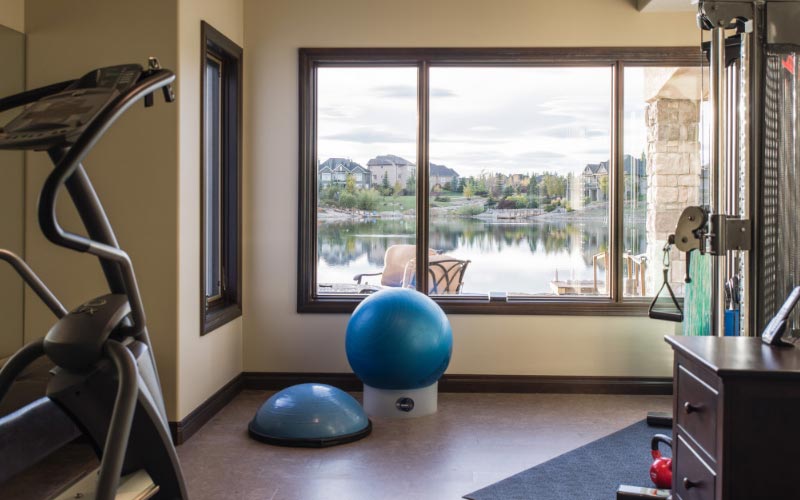 Lockdowns and restrictions have prevented us all from getting out to our favourite Calgary gyms on a regular basis. The renovation solution? Bring the gym to you! Many homeowners are now including a home fitness facility in their renovation plans, because preserving physical and mental health through these trying times is a top priority. Giving yourself the ability to maintain those regular sweat sessions from the comfort of your own home, is not only safer, but allows you to rely on a routine that will never be forced to change, despite the threat of future lockdowns or added restrictions. Some popular design choices for home gym renovations have been non-slip flooring, equipment storage, and a full bathroom with shower close by.
It's no wonder that companies like Peloton have sky rocked in popularity; with a friendly online instructor, scenic rides, and not to mention competitive cycling formats, working out from home no longer needs to be working out 'alone'.
Dedicated Office Space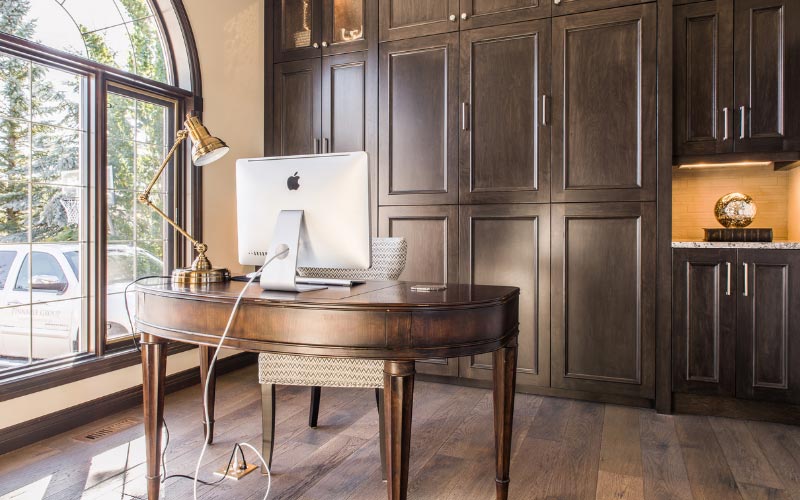 With so many people and businesses switching to a remote work model, having a dedicated home office setup is an absolute must! Our blog last month discussed this recent trend in great detail!
Click here for some extremely useful home office renovation tips and trends!