Calgary Bathroom Renovation Companies Offer More than Renovations
The Canadian real estate market has been booming lately. According to a report from the Calgary Sun, luxury home prices in Calgary are on a steady incline: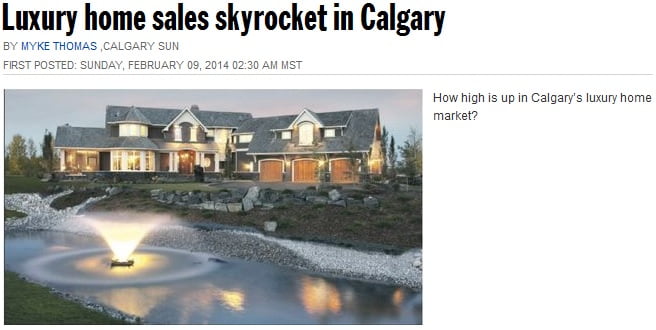 "A ceiling for sales was set in 2012, but sales in 2013 blew the doors off that record, says ReMax in its Upper-end Market Trends report. Seven hundred and thirty-two properties, priced at more than $1 million, changed hands in 2013, a 34% increase over 2012 levels, says the report.

The momentum has brought the market into balanced territory, with close to 350 properties now listed for sale over $1 million, roughly a six-month supply."
Often it is assumed that with a price tag of this magnitude, a luxury home is move–in–ready; however, although the finishes may be opulent and the amenities spectacular, it does not mean the spaces are in alignment with the needs and requirements of the buyer's lifestyle or design preferences. Buyers of these high-end properties still request renovations or a cosmetic overhaul that vary from specific rooms like kitchen and bathroom renovations in Calgary to complete makeovers. Fortunately there are a variety of financial solutions available, providing a Purchase-Plus or Refinance-Plus Improvements Mortgage that will include the cost of the upgrades into the total loan.
Homeowners would do well to enlist the services of home renovation companies like Pinnacle Group that offer Design-Build services. Design-Build is a term used to describe a project delivery system in which the design and construction of a full home, kitchen or bathroom renovation in Calgary is contracted by a single entity known as the Design-Builder. There are many advantages to this system when it comes to a luxury home renovation. The Design-Build model maintains the alignment between the Client and Builder when it comes to providing a finished project in which all expectations are met with consideration to the start date, completion date and cost as well as the creation of a home that truly meets every family members' unique needs.
(Source: Luxury home sales skyrocket in Calgary, Calgary Sun, February 9, 2014)
Other sources:
http://www.askmen.com/money/investing_150/190_investing.html
http://www.ontariocontractors.com/buildcalc.htm (based on 600 sq meter home)
http://realestate.msn.com/building-your-first-home-10-must-haves#1