The Vancouver Sun has a January 4, 2014 report that details Calgary's advantage over Vancouver as the leader in the Canadian real estate market. Calgary's recent mixed-use developments make it a viable alternative to living in Vancouver, which is currently starting to feel the effects of rising home prices. The article suggests that Gen Y buyers and Baby Boomers will greatly influence the nation's real estate market in the years to come: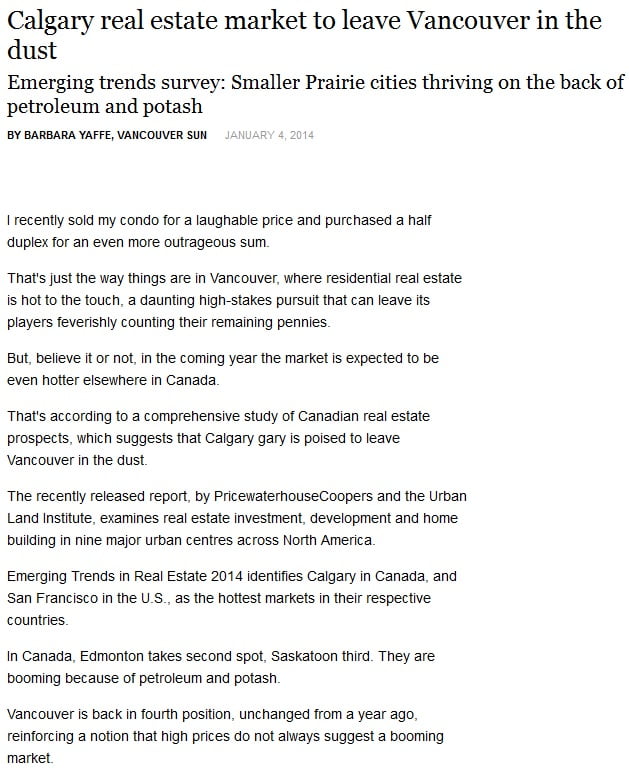 ""This generation will be more urban and less suburban. They won't want to drive as much but will want to be mobile. From intown (sic) rental housing to collaborative office space to close-in warehousing to ensure same-day delivery from online retailers, Gen Y will be a noticeable force." This shift is taking place as Baby Boomers also are moving to core areas to be near amenities and health care services."
While Millennials and Baby Boomers may want the same convenience and accessibility that urban living provides, they will expectedly have vastly different preferences in living space designs. Trends for the former point to minimalist and personalized styles, while Baby Boomers who are looking to age in place prefer comfortable living spaces with features that can help them in their senior years.
Retirees choosing to live in the middle of a fast-urbanizing city like Calgary may want the serene environment that suburban areas are able to offer; there is no end of design solutions that can be integrated into a home to perfectly compliment the needs of the homeowner, creating a comfy refuge to escape the city's hustle and bustle. Expert Calgary home builders such as Pinnacle Group can help seasoned homeowners renovate their homes or completely design a new one to build in all the comfort and support features both their current and future lifestyle necessitates.
Renovating urban homes can be a tricky process, especially when homeowners have to work with limited spaces. With the help of an experienced custom home builder in Calgary, urban homeowners can give existing structures the appropriate facelifts, or create an entirely new home that will be right for their present and future needs.
(Article Information and Image from Calgary real estate market to leave Vancouver in the dust, Vancouver Sun, January 4, 2014)