Family-Friendly Things to Do This Winter near Calgary, Alberta
Are you wondering what to do in Calgary? Wonder no more!
Calgary comes alive in winter! Whether you're a new homeowner in the area, a tourist who's just visiting, or you've been living in the Calgary area for many years, there are a number of fun things to do in Calgary. From family activities to Calgary family day events, there are many places to visit in Calgary throughout the long, cold winter. Small children to grown teens can all enjoy themselves in this family-friendly city.
1. Canada Olympic Park
Address: 88 Canada Olympic Rd. S.W.
WinSport Canada Olympic Park was one of the key venues from the 1988 Winter Olympic Games, and that's where it got its name. Today, the WinSport Canada Olympic Park is one of the main Calgary attractions. It's a place to enjoy a ride on the Scenic Chairlift, spend an afternoon on the bike trails, or go mini-golfing. WinSport also boasts skiing, snowboarding, ice skating, and shopping.
Its strength is in its diversity: there's a little something for everyone. It's not just a kid's park! Case in point: WinSport is the home to the world's fastest zipline, where you can jump off a platform and fall 8 stories before softly landing on the ground.
Want to know more? Check out this video from the Calgary Herald, of one reporter's experience with the Free Fall ride.
2. Outdoor Ice Skating Rinks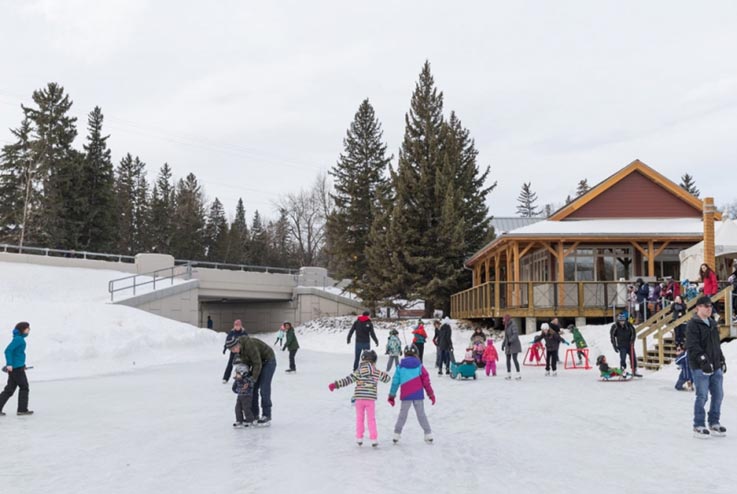 There are many city-run skating rinks in Calgary. These outdoor rinks are located primarily in parks and natural areas. Every rink is different, so pick yours based on location, amenities, and other features. Rinks are not open all year round, so look to the Calgary website to find out when the rinks are open.
North Glenmore Ice Trail has portable washrooms, public green spaces, and picnic sites. Location: 7305 Crowchild Tr. S.W.
Bowness Park is a place where families can go boating and picnicking in the summer and skating in winter. Rentals are available at this rink. Location: 8900 48 Ave. N.W.
Big Marlborough Park is a large park near a community centre and three different schools. Location: 6033 Madigan Dr. N.E.
Carburn Park includes three man-made ponds, wildlife, a regional pathway, and a large natural area. Location: 67 Riverview Dr. S.E.
Olympic Plaza was built for the Olympic Winter Games and thus has a refrigerated outdoor ice surface, great for ice skating even at times when it's unusually warm in winter. Rentals are available at this rink. Location: 228 8 Ave. S.E.
Prairie Winds Park is a large park with features like a wading pool and playscape in summer, and two fun skate rinks in winter (north and south). Location: 223 Castleridge Blvd. N.E.
Thomson Family Park is a relatively new, inner-city space with outdoor recreation opportunities. Location: 1236 16 Ave. S.W.
Prince's Island Park is a popular park with large, outdoor events throughout the year. Location: 4 St. and 1 Ave. S.W.
3. Horsin' Around (Horse-drawn sleigh ride)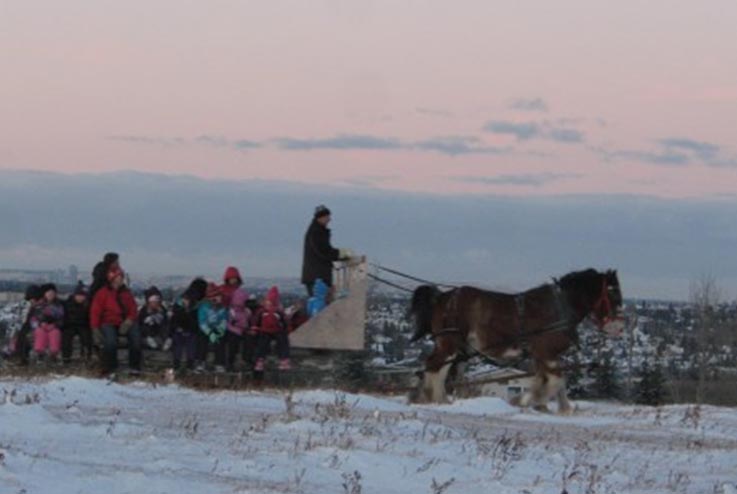 Location: 3729 – 146 Ave SW
Horsin' Around horse-drawn sleigh ride is a holiday-only seasonal tradition in Calgary. Enjoy hot chocolate, time spent around the campfire, and of course, horse-drawn sleigh rides. Horsin' Around opens up around December.
4. Calgary Zoo
Location: 1300 Zoo Road NE
Calgary Zoo is open all year round, including in winter, when you can enjoy the traditional Zoolights experience. Support wildlife conservation while you enjoy the splendor of holiday lights. Bundle up: those Zoo Lights nights can get chilly. Great for kids and adults alike!
5. Museums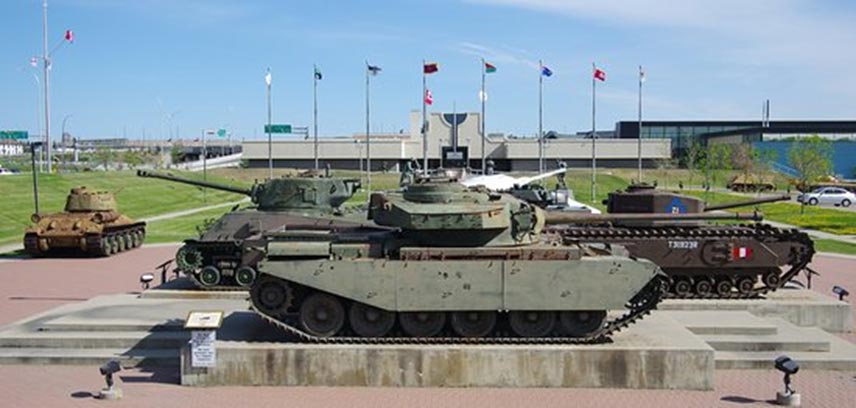 Calgary is a place of culture, no doubt. Museums in Calgary run the gamut. No matter what your area of interest, you can find a museum that's right for you.
Gasoline Alley Museum
Location: 1900 Heritage Dr. SW Heritage Park
Gasoline Alley Museum is a museum that contains thousands of memorabilia from the early days of automobiles. With artifacts going back to the turn of the 20th century, the Gasoline Alley Museum is the perfect place for you to get your fix of interesting automobile information and facts. Come for the painstakingly restored vintage cars and vintage road signs, stay for the Dinner and a Movie event, where you can enjoy a classic movie in a classic setting.
Glenbow Museum
Location: 130 9 Ave SE
Glenbow Museum is a museum for history buffs and art lovers looking for exhibitions that combine art and culture. Come enjoy the largest public art collection in Western Canada.
Canada Sports Hall of Fame
Location: 169 Canada Olympic Rd SW Canada Olympic Park
Canada's Sports Hall of Fame includes exciting exhibits like the Women in Sports exhibit, the Locker Room Gallery, and the motion gallery. With interactive exhibits throughout the museum, come and get your fix of fun trivia and historic knowledge of Canadian athletes and sporting events. It's a fantastic place to take your little ones who admire athletes, and your bigger kids who enjoy playing sports themselves.
Military Museums
Location: 4520 Crowchild Trail SW
The Military Museums of Calgary is the largest tri-service museum in Western Canada. Here, you can learn more about the sacrifices of the Canadian Forces during wartime. Learn more about both World Wars and about what it was like to be on the front lines of some of the most pivotal battles of the 20th century. See historic photos and enrich your knowledge of the Canadian military.
Bow Habitat Station & Sam Livingston Fish Hatchery
Location: 1440 17a St SE Pearce Estate Park
Bow Habitat Station, located just five minutes east of downtown, is the place to bring your little ones for an afternoon of hands-on enjoyment, but you can also bring older kids. Everyone will learn more about fish and wildlife in and around Alberta. Take a guided adventure through the hatchery, or go fishing in the trout pond!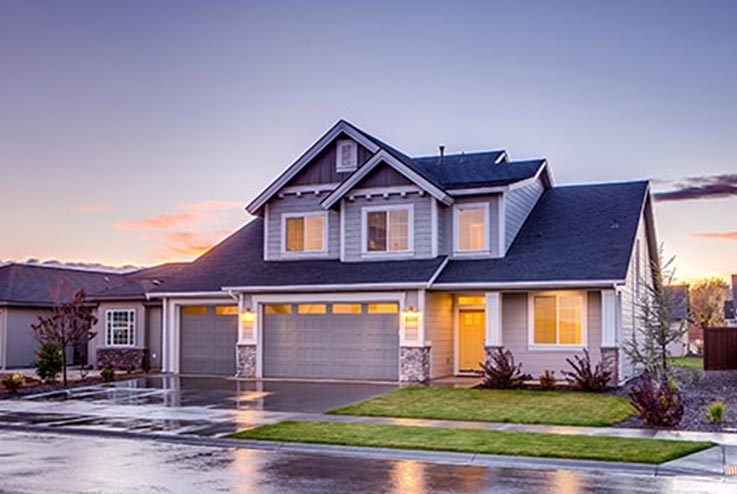 Love Living in Calgary? Make Your Current Home Your Forever Home
Don't you love living in Calgary? With so many exciting activities to enjoy, you can easily make Calgary your forever home…if you love where you live. Invest in your house. Take on that remodel you've always wanted. Contact Pinnacle Renovations to update your home today.
View our checklist and guide to getting your home winter-ready!