How Much Does a Basement Renovation Cost in Calgary, Alberta?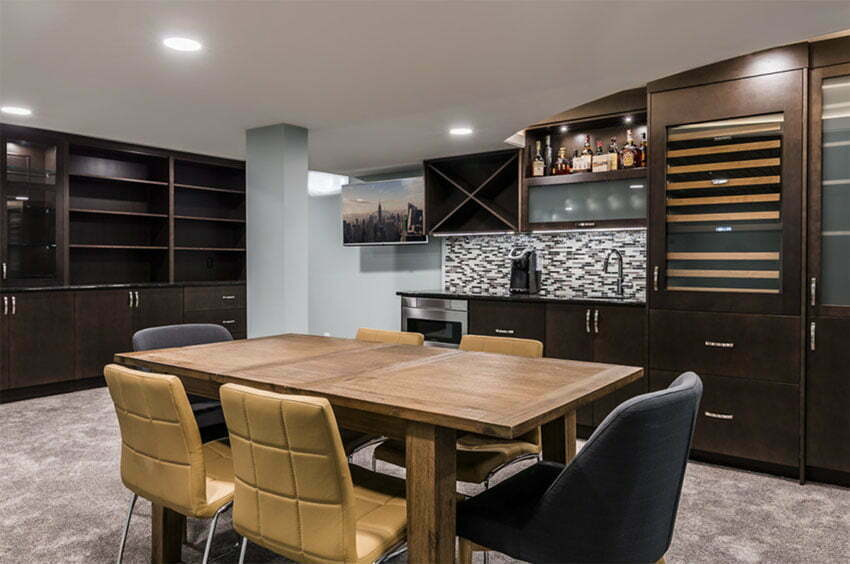 Whether you have just moved into your new home after a long market search, or you want to revitalize your long-term space for many more memories to come, one of the best ways to turn your house into a home is through a custom basement renovation. In Calgary, where many basements begin as four simple walls surrounding an unfinished space for utilities, these renovations provide an opportunity to create a warm, welcoming, and functional gathering place for family and friends alike.
However, as opposed to single rooms like a kitchen or bathroom, basement renovations are an undertaking that changes an entire floor of your home. Every detail must be accounted for – enabling an end result that not only stands the test of time for design and functionality, but one that serves as a backdrop for important events in the years ahead. The final layout and finishing should support your lifestyle in every way, especially in ways that some may not even think about on a daily basis – everything from the design styles that draw you in, to smart home technology (such as Alexa-prompted power window coverings & home entertainment features), custom furnishings, and the overall vibe you want the rooms to evoke every time you step into the space.
Turning a basic basement into a dazzling focal point of your home takes time, skill, and an exceptional design eye – but how much does renovating a basement in Calgary cost?
How Much Do Basement Renovations Cost?
As with any renovation, there is no single "ballpark" figure for basement renovations cost in Calgary. Think about the wide variety of basement sizes and styles throughout the city, the different soils that affect drainage, or the quality of the materials used in initial construction. An old house in Ramsay or Inglewood will have a vastly different profile than a new build in the southeast Legacy neighbourhood, and a large home next to the Elbow River in Roxboro will have different water mitigation needs than another up in Harvest Hills or Springbank. Each basement is unique and requires individual planning.
Based on our latest research into the market (summaries of which you can find in our updated Renovations Cost Guide for Calgary and Area), most homeowners that follow through on basement renovations can expect to spend somewhere between $45,000 – $120,000+ on the project. This large range is because there are so many factors to consider when asking, how much does it cost for a basement renovation? Consider: 
What is the current state of the basement? If it is currently unfinished without many added walls or utilities, there are both advantages and drawbacks that will impact the renovation cost (e.g., no walls will need to be removed, but new plumbing may have to be added).
Will the desired renovations meet necessary bylaws and regulations? From load-bearing limits, to material quality, to ceiling height,

many municipal bylaws

and guidelines will impact how a space will come together. If more work must be done to meet these code and bylaw requirements, the final investment will reflect it.
What will the space be used for? Are you creating a family recreation space, a home gym, a pair of home offices, or a state-of-the-art theatre experience? Your vision can be achieved, but technical expertise and custom designs each play a role in the final cost.
What features will the space have? You may want to add a kitchenette or laundry to your basement design, or

a luxury bathroom

with heated flooring. The features you choose, the materials you are attracted to, and the level of customization you require for each will have an effect on how the final costs play out.

 
Will it be a secondary suite? Basement suites can be an excellent source of secondary income, but they must be built

to code; adhering to a very specific set of City of Calgary bylaws. Experienced, licensed contractors – whose expertise

is invaluable – can ensure all relevant bylaws are followed and available space is maximized for landlord and tenant alike.
These are just a few questions that any homeowner considering a basement renovation in Calgary should be asking. The answers to them will help you in the most important part of your renovation journey, which begins long before the physical work does: finding the right renovation company for you and your family.
How much does it cost to build a
basement
suite?
This is another question we get asked a lot when it comes to basement renos in Calgary.  According to Paul Klassen, CEO of Pinnacle Group Renovations, the cost of building a basement suite in Calgary can vary depending on several factors. One significant factor that can greatly affect the price is the need for an exterior stairwell, which may add an additional cost of around $15,000. On average, basement suite construction typically ranges from the mid $150,000s to the high $100,000s due to the various components involved. This includes expenses for heating components, HVAC systems, fire separation requirements, and more. For those looking to create an open concept design and remove teleposts, you should budget an additional $3,000 to $6,000. Keep in mind that these are rough estimates, and actual costs may vary from year to year based on market conditions and specific project details.
Choosing the Right Basement Renovation Company
When searching for the best basement renovation contractors, your total investment is just one consideration to keep in mind; for our ideal client, it's the final outcome and the ability to trust the team you hire that is of critical importance. In order to get the look and feel you are after for your home's lower level, you will also need a design and build team that listens to your goals, dreams, and vision for the space. Of utmost importance is finding a team with the design expertise that helps you see past the current condition and opens up a world of possibilities that many times only a trained eye can see – an expert that sees the needs of today for you and your family, as well as those of the future. 
Imagine the years that lie ahead: will this be a place for family movie nights, neighbourhood gatherings, or immense creativity via music, hobbies and the like? Do you need a wide open and roomy place to relax and unwind, or a place to showcase your prized collectibles and keepsakes? How do you want to feel when you walk into the room? The most important questions are not just how much basement renovations cost, but how much the creation of that feeling is worth to you. We go through this process in detail in our Design, Needs, and Alignment (DNA) Document, a questionnaire that prioritizes a total understanding of your desires and expectations from the beginning of the consultation process right through to the final touches as you move into your new space.
When choosing a contractor for your basement work, you should know that most issues arise in one of three areas: a missed Start date, missed Completion date, or unforeseen Cost overruns. We can't speak for others, but at Pinnacle, we pre-emptively avoid these issues by offering our SCC 3-Way Guarantee: we guarantee your Start date, Completion date, and Cost. So, when trying to figure out, (How much are my basement renovations?) you will have a clear and guaranteed number right from the start, with no surprises or missed deadlines to interrupt the enjoyment of your home.
Basement Renovations Contractors in Calgary
When it comes to price ranges of basement renovations, Calgarians from Bearspaw to Willow Park have plenty of choices – simply Google "basement renovations near me" and you can see for yourself. It's clear that the quoted costs will vary greatly depending on which company you ask. But in our experience, real and lasting satisfaction for a homeowner comes by asking the right questions during the early stages of design through our proprietary DNA Document. We have our challenges like any other company, but when it comes to the passion and commitment to deliver a great basement renovation in Calgary, our customer reviews tell that story: 100% of customers were pleased with the final design. A basic basement can become a wonderful extension of your home, providing what you need for your lifestyle to flourish. We are proud to deliver those results for the people of Calgary and its surrounding communities – and as our basement renovations galleries show it's something we have delivered through countless projects over the last two decades.
Whatever you have in mind for your basement – whether it's a makeover or new development – the home renovation professionals of Pinnacle Group are here to help. We will not only give you a guaranteed total cost for your entire project, but we will help you get the most out of every square inch in a way that suits you and your family best, with creative and outstanding designs. To us, that outcome is truly priceless.