Lifestyle Mag Features Pinnacle's Calgary Kitchen Renovations Project
Calgary, Alberta (November 22, 2013) – Homes & Living Magazine is featuring one of the exceptional Calgary kitchen renovations of Pinnacle Group as the runner-up of their Ultimate Kitchen Contest for Calgary. The magazine will highlight the finalists of the contest in their December/January issue.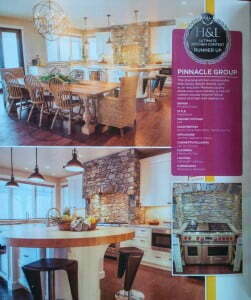 The magazine posted the pictures of participating builders' kitchens in various perspectives and asked readers to vote for the overall design they preferred the most from June to September. Although Pinnacle Group competed with other gorgeous kitchen designs, Canadian residents favoured the comforting and exquisite ambiance projected in their entry.
With a square footage of 844, the stunning design successfully balances traditional and contemporary elements in a kitchen that was custom designed for this family's day to day activities and entertainment needs. Pinnacle Group's in-house millwork design partner, Van Go Artisans, designed the impressive custom cabinetry featured in this kitchen. Just outside the bi-parting garden doors is a 2000 sq. ft. wrap-around veranda that includes an outdoor kitchen and BBQ area. The kitchen, dining and veranda area combined, make for the perfect environment to entertain guests.
The kitchen is part of a 5500 sq. ft. custom home build project that the company completed in Dewinton. Pinnacle's detailed Design Discovery Process uncovered each family members' needs, resulting in a successful custom home build. Every design detail, such as the stunning Montana quarry stove oven hood canopy and constructed customized circular butcher-block island, perfectly compliments this client family's vision for their newly created living spaces.
To successfully complete the remarkable kitchen renovation in Calgary, Pinnacle Group spent sufficient time up front understanding what the client family required in their home not just in terms of aesthetics, but in function, as well. Using the knowledge and experience they have amassed serving various clientele, they were able to provide valuable design solutions.