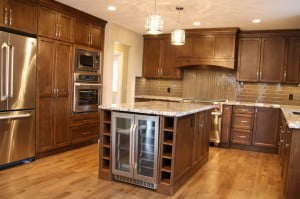 To really get to know a Builder you must go beyond viewing online galleries, reading their promotional materials or having a quick conversation at a tradeshow booth; you need to have meaningful conversations with the staff and trades in their environment and see the craftsmanship up front and centre! Whether you are just in the dreaming phases, or have detailed questions about your own project you are considering, or you are a valued past Pinnacle Client wanting to support the Pinnacle community, our Renovation Tours are not to be missed! We are committed to being a leader in transparency and accessibility and hope you will join us as we open the doors to two phenomenal Client family projects in the established communities of Varsity and Brentwood in June!
Initially on June 8th, we will showcase a luxury estate home main floor Renovation of an exquisite two storey walkout, backing on to the Silver Springs golf course. This Client Family desired an open concept kitchen and living area that provided functionality and supported their love of cooking international dishes, requiring substantial and accessible storage space for spices. As well, they wanted to open up the site lines to the golf course and back yard pool. The master ensuite was also updated and changed to a walk-in shower. It was imperative to this Client that areas of the home not being Renovated were protected and kept clean. The result is a phenomenal high-end home transformation that captures the impressive outdoor views and allows the Client to flourish and thoroughly enjoy and utilize their living space.
When: Saturday June 8th, 2013

Time: 10am – 4pm

Where: 646 Varsity Estates Cres NW
On June 22nd, we will feature a Renovation of a Client family home that came about unfortunately because of a family illness that required the home owners to move from their beloved farm home to the city into what was previously their rental property. This Renovation was a very emotional journey for this family; it was imperative that the home transformation capture distinct elements of the farm home that was so near and dear to their hearts. They wanted to create a true sense of comfort reminiscent of their previous home, since the move was a matter of life circumstances versus choice. This Client expressed that they were attracted to Pinnacle's process assuredness, guaranteed timelines, full service business model and personal approach, which was necessary to successfully facilitate a Renovation under these circumstances. This project included a complete gut of the main floor, with added square footage to support reconfigured traffic lines and improve curb appeal aesthetics. The result is the transformation of a dated 1200 square foot bungalow main floor that is now a comfortable, tasteful and cozy haven.
When: Saturday June 22nd, 2013

Time: 10am – 4pm

Where: 3504 Bulyea Crescent NW
Come and see the detailed design choices in the spectacular finishes that exude pride of ownership and perfectly complement each family's unique needs and while you are there – enter to win an iPad Mini!