The Calgary, Alberta Home Renovations YouTube Channel You NEED To Follow!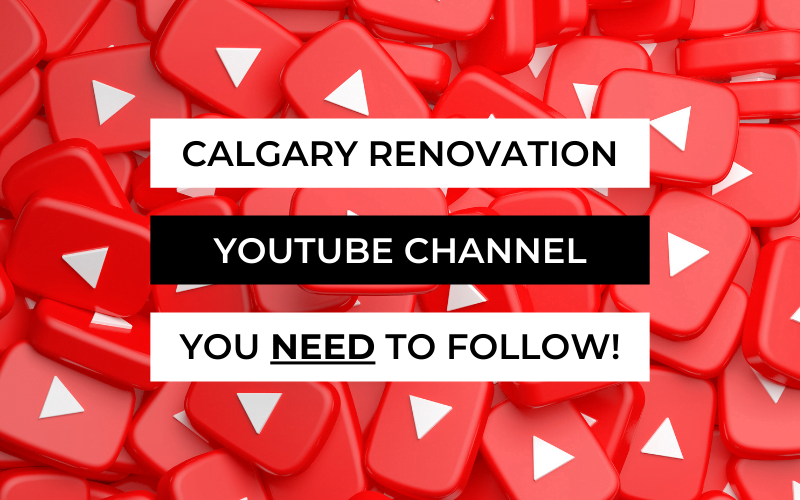 Getting started with your own custom Calgary, Alberta build or home renovation can be stressful for a number of reasons.
For most, it is the uncertainty that comes with not knowing where to start or what exactly to expect from the process. Unless you yourself are a contractor or real estate investor, it isn't likely that you will go through an extensive whole home transformation more than once. If you do, usually the time spanned between projects is so substantial that there will be a number of new changes in the renovation and construction industries to learn about.
Unfortunately, HGTV and other home improvement programs on television are often highly scripted, and don't paint a realistic picture for their audiences. For example, two of the most crucial elements to any renovation process (timeline and budget) are usually never portrayed accurately on television. Timelines appear much shorter due to the fact that an entire renovation needs to be condensed into a 30-60 minute segment, and they usually fail to mention the fact that many goods and services featured on the show have been discounted or added free through network sponsorship agreements.
At Pinnacle Group Renovations we know that educating our current and future Client Families is best practice for everyone. In an effort to continue sharing our wealth of knowledge and experience with you in one easy-to-access place, we have curated a library of video content that is available for FREE, 24/7 on our YouTube channel!
From home improvement webinars and podcasts to renovation tours and trending industry topics, we have got you covered!
Here are 5 Pinnacle Group YouTube videos that you should watch today!
---
1. National AccessAbility Week Discussion – Podcast #1 with Pinnacle Renovations
In episode 1 of our 3 part Accessibility Week Podcast, Pinnacle Group founder Paul Klassen is joined by Sean Crump from Included by Design and Mike Drummer from Digital Lifestyles to discuss the validity of Accessibility Week, the importance of inclusion, and how home automation can help homeowners living with a disability maintain their independence and safety.
Link: https://youtu.be/XUQG7Rv8SF0
2. Is it Time to Make the Decision to Renovate or Sell Your Home? What Should You Do?
Deciding whether to renovate your home or to sell your home and relocate is a major life decision. At Pinnacle Renovations in Calgary, Alberta, we have partnered with Coldwell Banker Mountain Central to offer a program designed to help our clients make that crucial decision. In this video, we showcase a project where our client elected to upgrade their home with a stunning renovation. See how this home reno story unfolds, and perhaps you're looking for the same kind of direction?
Link: https://youtu.be/MQ14t_aKFgM
3. Renovating for Accessibility in Calgary: Providing Basement Access for Disabled Persons
Pinnacle Group in Calgary is passionate about reducing barriers for homeowners with physical challenges and designing homes for accessibility. In this video, longtime homeowners tell their story of coming home to their newly renovated home, and their experience working with Pinnacle Group through the renovation process.
Link: https://youtu.be/GVPIo2GDdFw
4. Virtual Renovation Tour Walkthrough – Lake Bonavista 4 Level Split in Calgary gets a Makeover!
These homeowners had visited one of Pinnacle's Reno Tours as a result of receiving a neighborhood Flyer. The current home was very dated, compartmentalized and lacked the more modern look and feel that this professional couple was attracted to. There was also a frustration with a very small ensuite and walk up vs walk-in closet space from the master bedroom. Tackling this renovation with the design ideas presented by Pinnacle, would allow this couple to live for many more years in the neighborhood they so loved; but now in a home they could absolutely adore vs tolerate!
Link: https://youtu.be/6Aed1KxUDpI
5. Pinnacle Custom Cabinets Video Tour
Take a tour of Pinnacle Group's own cabinet shop, where all of our custom made cabinets are hand built! There's no substitute for true craftsmanship, which is why our quality cabinets stand out in every project.