Top Factors to Consider When Designing an Accessible Bathroom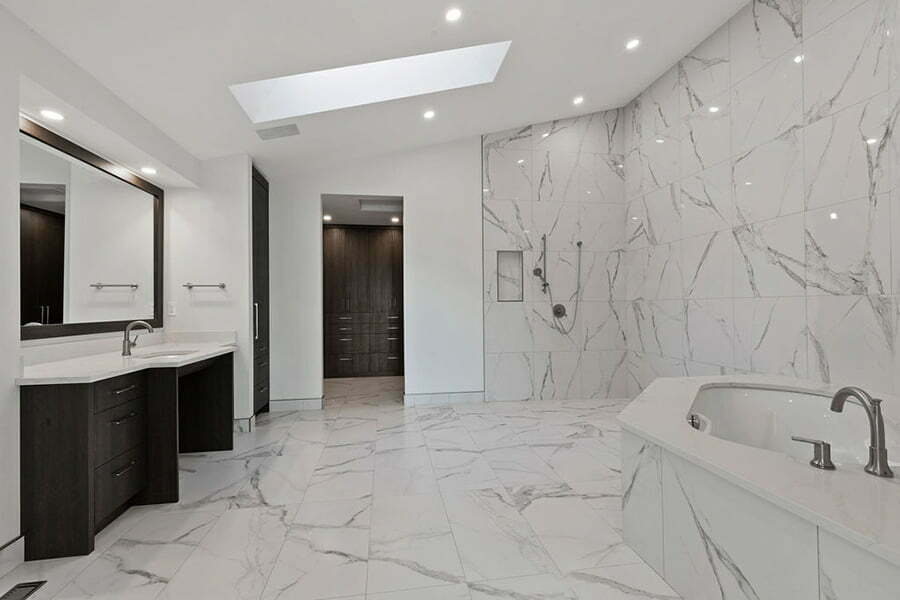 When it comes to designing a living space that is both welcoming and personalized, every homeowner's needs and wants will be different. Some may be interested in creating a more spacious kitchen where they can entertain family and friends, while others might want a custom basement development where years of laughter and movie nights will take place. Even though these versions of "home" might look different from one another, the concept of designing a space where you can feel comfortable, safe, and confident is something they all have in common. For homeowners living with mobility challenges, this can also mean taking the steps needed to create a less restrictive environment – including, but not limited to, the design of more accessible bathrooms. Statistics show 8 in 10 homeowners wish to remain in their homes for as long as possible; having a more accessible bath is of utmost importance to achieve that Forever Home goal. At Pinnacle Group Renovations, our AIP/Aging in Place designs have the solutions for you or your loved ones!
What Does an Accessible Bathroom Look Like?
While there are many elements to consider when planning for your own accessible bathroom renovation, there are some general concepts and ideas that will be commonly implemented into different designs:
More space, to accommodate physical equipment like wheelchairs or walkers;

 

Integrated supports, to help people in the event of a slip or fall;
Ample lighting, for high visibility; and

 

Accommodating features, such as different heights for fixtures or appliances to better suit a person with limited mobility and reach.

 
These four main categories address the needs that homeowners living with these types of mobility challenges face daily.
How Much Does It Cost to Make a Bathroom ADA-Compliant?
In a previous blog, we wrote at length about the things homeowners should consider when renovating a bathroom in their Calgary homes, and how much effort should go into each and every aspect of this space. We explained that the average cost can range anywhere from $15,000 to $85,000 and beyond, because there is simply no one bathroom design that works for everyone.
The ultimate investment range of enhancing the compliance of a bathroom to the standards set by the Americans with Disabilities Act (ADA) will depend on factors like the size and current condition of the existing room, the materials used, the features being installed, and any high-end fixtures or options being included. Even small details (which, in our opinion, add up to a rather large part of the experience) like cabinetry hardware, shower fixtures, and sink faucets can impact the overall cost of your project. If you're interested in renovating an accessible bathroom, we invite you to book a consultation with our knowledgeable team today! 
Tax benefits, grants, and finance options for accessible bathroom renovations.
Many people are unaware that improving accessibility for disabled persons in their home may qualify for tax benefits or grants. Not everyone qualifies, but if you believe you might, you can discuss things further with your accountant. This may ultimately help to recoup some of the investments you make in creating an accessible bathroom. We cover more details in our full microsite, My Lifetime Home, which is all about creating a lifestyle designed for inclusion and freedom.
How Do I Make My Bathroom Accessible?
There are several areas of focus that most Calgary homeowners use to plan for their own accessible bathroom renovation. Many people tend to focus on showers and bathtubs, because these are some of the most likely places for a fall or accident. As we age, these falls can be injurious or even fatal, so taking the right precautions is of vital importance.
1. Shower Entry and Exit Points
Creating a wider entry to your shower offers extra space to manoeuvre, especially for anyone who needs to make access with an assistive device. Often, this involves enlarging the shower door, and ensuring the entry and exit point is curbless – that is, that it has no abrupt step up or down. These small quality of life considerations might seem minor, but they can make a very big difference, especially for people who use wheelchairs or walkers. 
2. Grab Bars
Proper grab bars for safety and fall interruption are not just about being strong and reachable anymore. We also believe they should be integrated seamlessly into the bathroom. After all, we want your newly renovated bathroom to be aesthetically stunning, and not in any way projecting an institutional or clinical feel.
Thus, at Pinnacle, we use products like INVISIA grab bars, which blend in to look like ordinary wall features such as towel racks, soap dishes, or even toilet paper holders, but are reinforced to hold up to 500 lbs and break the fall of anyone who grabs them for support. We like to ensure these features have extra bracing for even more added support, because when it comes to slips and falls, it's never worth taking the chance on breakage.
You can also find innovative accessible design right inside the shower. Proper ADA standards look for items like a flip-down shower bench, made from chrome and capable of holding up to 500 lbs. These benches allow someone who cannot stand for long periods without support to have a blissful and relaxing time in the shower – and that luxury is truly hard to put a price on.
3. Comfort Height Toilet
Toilets are often overlooked in the grand scheme of an accessibility renovation. Comfort height toilets sit at chair height, approximately two inches higher than standard-height toilets, and are designed to be more comfortable for anyone with mobility issues who struggle when getting up from a lower seat. They are also positioned further from walls on either side (typically, the minimum is 15"; we ensure it there is at least 18" of room for enhanced mobility). 
4. Overall Room Design
Creating more space to move around safely and comfortably is key for an accessible bathroom renovation. The ADA requires at least a 60" circumference, where any person in a wheelchair can make a full spin. This might seem like a lot but implementing a creative and innovative design can allow us to maximize your available space! For example, we will often lift the vanity shelf for a "floating vanity", leaving additional room below for wheelchair users. 
Another design concept that many people don't consider initially is the effect of utilizing contrasting colours in important areas of the room for homeowners with deteriorating vision. For example, having a darker shower floor and lighter walls helps people with sight-related challenges to know where the walls start and stop, as it assists with depth perception and movement.
5. Lighting
Of course, lighting is also a big factor in accessibility and the ADA guidelines. Consistent lighting in the shower and throughout the bathroom is crucial, and adding supplementary lighting features such as vanity lighting and LED panels can make navigating the room much easier for everyone! After all, there are entire studies that dictate how many lumens should be present in a bathroom setting; studies show that a standard bathroom should have at least 500-600 lumens in the entire space, and 700-800 lumens in spaces like the vanity area, sink and shower. This is because lighting helps reduce injury and mitigate falls and accidents.
Even though all of these serve an important functional purpose, they also can be designed and installed to look amazing – often in bathrooms that are of a standard size. For more unique situations, like motorized chairs or specific home care arrangements, we can help advise on the expansion of the bathroom's footprint to best suit your needs and desires. 
Accessible Bathroom Renovations in Calgary
Whether you're being proactive for the future, or you are currently in need of a more accessible bathroom in your Calgary home, creating an inclusive space in your home is an exciting endeavour full of possibilities. We urge you to spend some time thinking about how you want the accessibility bathroom to look, the functions it should have, and even the luxuries that you want to see.
From majestic character homes in Cliff Bungalow and Roxboro to the peaceful meadows of Springbank and Symons Valley, we've been helping homeowners across Calgary achieve their renovation dreams for decades. Let us help yours come to life. Contact our professional designers and builders today and see why we've earned our reputation as one of Calgary's best home renovation companies.