How Much Does a Bathroom Renovation Cost in Calgary, Alberta?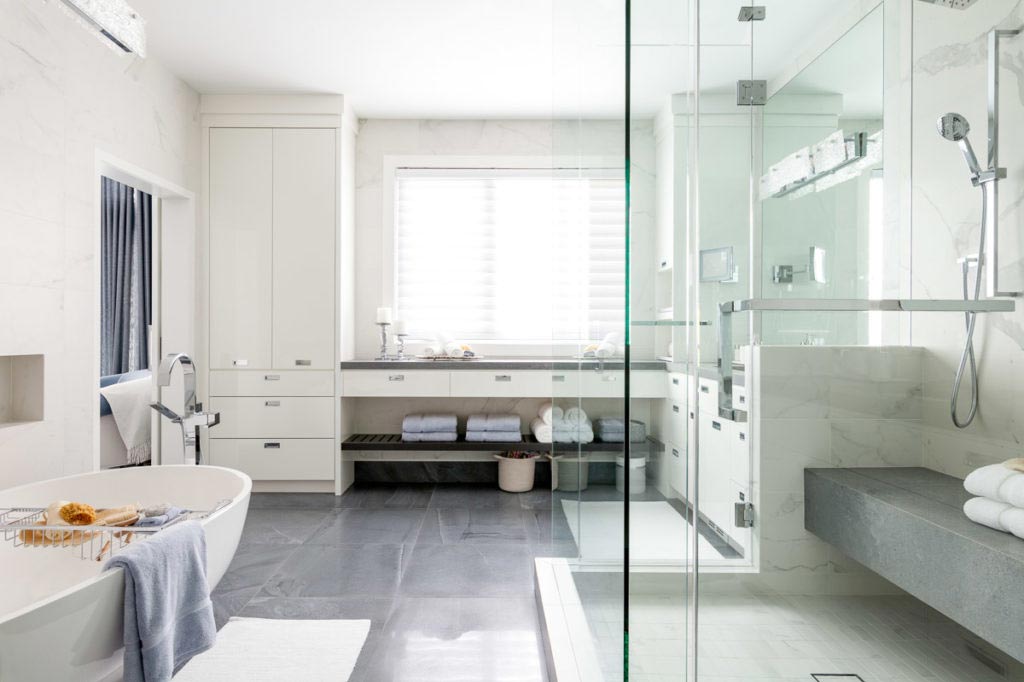 Have you ever asked yourself how much does a bathroom renovation cost?  When you've had a long day at work, there are few things as relaxing as a hot shower or a long bath in a clean and spacious bathroom. In fact, a Houzz report from 2020 found that 41% of renovating homeowners specifically claimed their bathrooms to be a place of rest and relaxation – so it's no wonder that these are among the rooms most often redesigned, rebuilt, and redone with new features and high-tech additions. 
With volatile material costs and unpredictable supply issues, knowing how much a bathroom renovation costs can be difficult. However, with a bit of preparation and planning, you can improve your home while keeping the project affordable. From proper budgeting and tips on hiring a contractor, to choosing the best materials for your new ensuite or half bath, here is some helpful information about how to renovate a bathroom in Calgary.
What Does the Average Bathroom Renovation Cost?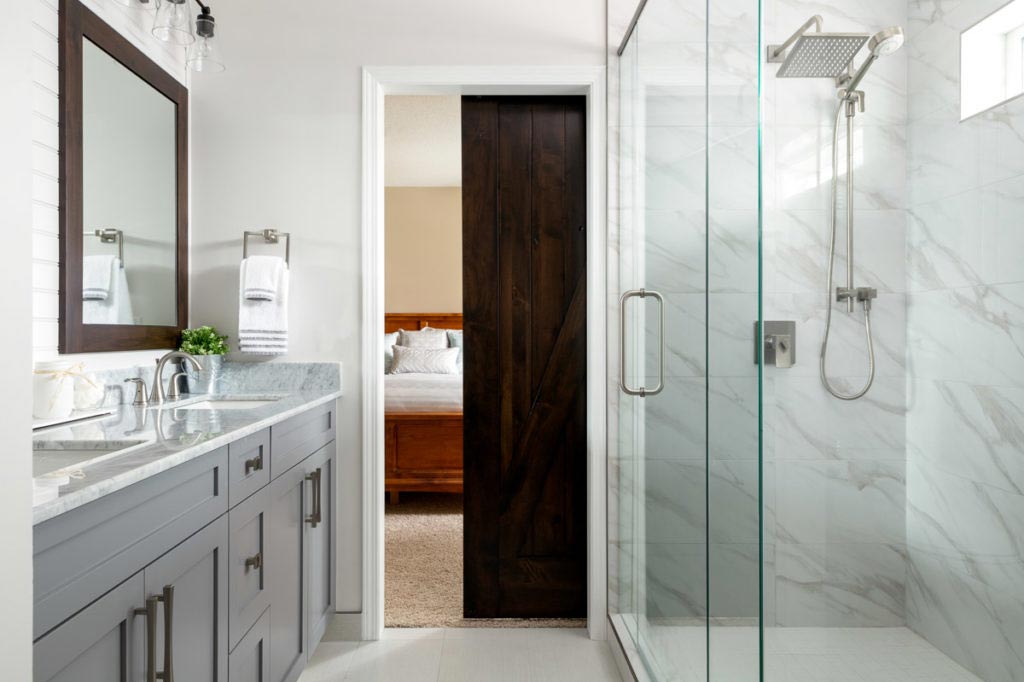 Whether you've just bought a home and you want to remodel, or you're giving your long-time residence a much-needed makeover, the first thought after you've decided to renovate is usually how much a typical bathroom renovation costs.
The price will depend on a few different factors, such as the age of the house, overall size of the bathroom, the style of the renovation (such as enlarging the bath footprint), the material quality, and accessibility. Such work can generally be divided into two tiers, mid-range and luxury.
Mid-range renovations – updating features and fixtures, changing lighting, installing new countertops or a shower enclosure, and so on – are quite common, and in those cases the average cost to redo a bathroom is between $15,000 – $30,000 in the Calgary area. This can impact everything from storage and shower space to the positioning of faucets and vanities, so the price can vary substantially, based on bathroom size and materials.
If you opt for a luxury bath renovation, you can consider some truly amazing features to install in your new bathroom:
Frameless glass showers
Soaker/jet tubs, or steam showers
Heated towel bars
Radiant heat flooring
Stone or quartz counters
His & hers vanity
Modern toilets & bidet/hygiene systems
The quality of these luxury bathrooms is better, and the labour and materials are more specialized, leading to a higher price point. For a renovation involving features like this, the typical cost would be in the range of $45,000-$85,000+. However, they also add immensely to your home's overall resale value and provide an excellent selling point if you decide to move in the future.
When planning your renovation, you should also know that bathroom renovations in Calgary can be tax-deductible, but only if certain conditions apply: improving accessibility for a disabled person, and installing energy-efficient equipment. Consult a tax professional to see if your project qualifies for the deduction. 
How to Keep Bathroom Renovation Costs Down

After you've thought about what you want the final, finished bathroom to look like, it's time to start planning out the renovation process. This is where many people suffer from mounting costs and stress, as they fail to account for variations in price, a lack of professional expertise, or other unforeseen circumstances. To maintain affordability, it's best to know your limitations and expectations from the start.
Make a budget and stick to it.
It sounds simple, but many people skip this step or only partially consider it, leading to issues later in the process. Start by researching cost guides for Calgary and southern Alberta, and meeting with contractors – remember, they will be in your house and around your family, so it's not just about the quality of work, but the quality of their personality, too. The more information you have, the better informed you'll be with your budget estimate.
This will also enable you to decide if you need financing for a budget that's beyond your current cash on hand. If you decide to go that route, now is the time to ask your bank or other lender about how much you can borrow, and what the terms of the loan will be (interest rates and length of term). Be realistic – if the cost is too high, bring your budget down or postpone the project until you can afford it. 
One other crucial piece of advice: expect the unexpected. There will always be obstacles that you cannot anticipate, and setbacks you could not have budgeted for; everything from the condition of your walls and wiring to plumbing problems in a guest bathroom can all cause further costs and stress. A good rule is to build that flexibility into your budget, leaving at least 10% of the budget open for unforeseen circumstances. Also ensure you communicate clearly, thoroughly, and in writing with your contractor before work begins, getting specific answers to questions such as When will the project start and finish? and What challenges might cause additional cost overruns on this project? Being proactive will go a long way toward preventing additional costs.
Hire a professional and create a proper renovation plan.
While asking yourself, 'How much does a bathroom renovation cost?', you may begin to wonder if you can do the bathroom renovation yourself. Unless you are an experienced professional that can source all the supplies, provide all the labour, and perform specialized electric, plumbing, and construction tasks, you are almost always better off hiring a professional contractor. The cost of repairing a poorly done job can rival that of the initial renovation in the first place.
So, once you have your budget ready to go, the next step is hiring a contractor who can do the job to your satisfaction. You should already have a shortlist of vetted contractors from the budget phase; choose your favourite one and work out the details of the project and costs. Remember, the cheapest option is often not the best one, and what you save in direct costs you are likely to pay for in other ways; if one contractor is drastically cheaper than the others, you will likely get low-quality materials, workmanship, or both.
Once you have a contract you are happy with, the actual renovations can begin. While the contractor might be taking care of the actual labour and material supplies, you will still be needed to advise and make final decisions – so always be direct in your communications and clear about what you want done.
Specifically, here are some ways you can manage costs for your bathroom renovation while ensuring the contractor has everything they need to succeed:
Clearly list your goals and expectations for the renovated bathroom when the project is complete.
Prioritize what should be done first and what is most important to you.
Ensure your "must-haves" and "nice-to-haves" are laid out for easy reference when a decision must be made. This covers every choice from faucet styles, to tiles and lighting, to the final paint finish and colour.
Be up front about your budget and limits, from the very start of the project, so there is no miscommunication.
If possible, work with a contractor's chosen designer to make decisions that can reduce costs.
Understand that certain work can boost your costs considerably, such as rerouting plumbing or adding custom construction designs.

How Long Bathroom Renovations Take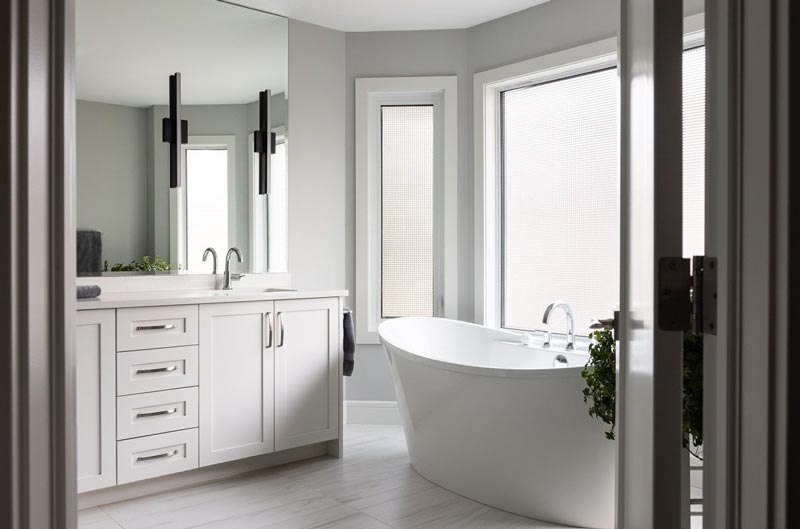 Before you start tearing out walls and pipes, you are likely wondering — in addition to 'How much does a bathroom renovation cost' — how long the average bathroom renovation takes. Like the price, it depends on many different factors: the scale of the renovation; the number of labourers on site; the materials and rebuilds required; and the workmanship of the people involved. A small bathroom may take a two-man team 10 days total – and a complex project may be double or triple that, with more workers – but those may not always be on consecutive days.
In general, plan for several weeks to 2+ months between the start and final completion of your bathroom renovation project, depending on the complexity and specific details. Of course, you should always discuss timelines with your contractor and clearly define your expectations in order to minimize your inconvenience.
Contact Us to Learn More About Bathroom Renovations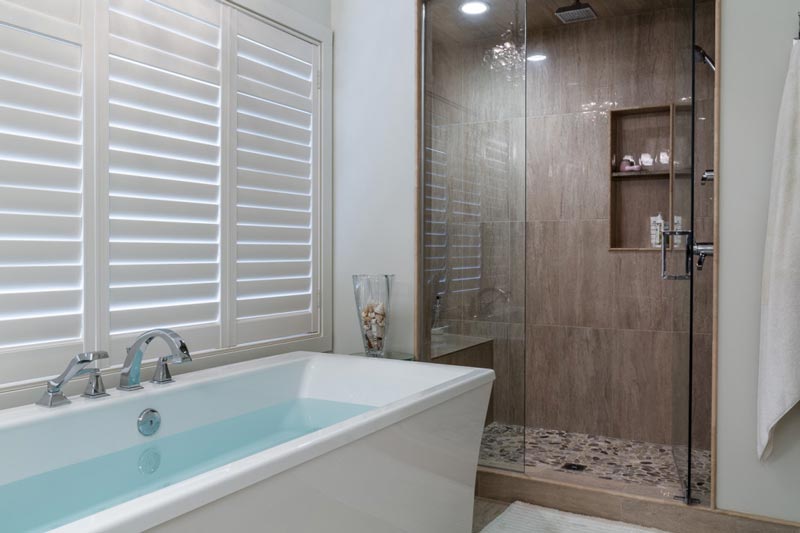 As you can see, there are many factors that affect the cost of a bathroom renovation in Calgary and the communities around it. However, one thing that you cannot put a price on is the satisfaction you will feel when all the work is done, and you and your family can enjoy your incredible new bathroom design idea that came to life. 
To guarantee that outcome, make sure you work with a proven and reliable home remodelling contractor that can work within your renovation budget and deliver an exceptional end result. Reach out to Pinnacle Group Renovations today to discuss your bathroom remodelling plans, and book a consultation appointment so we can help you get the most out of every square foot of your bathroom and your home.