The Newest Basement Ideas and Trends in 2023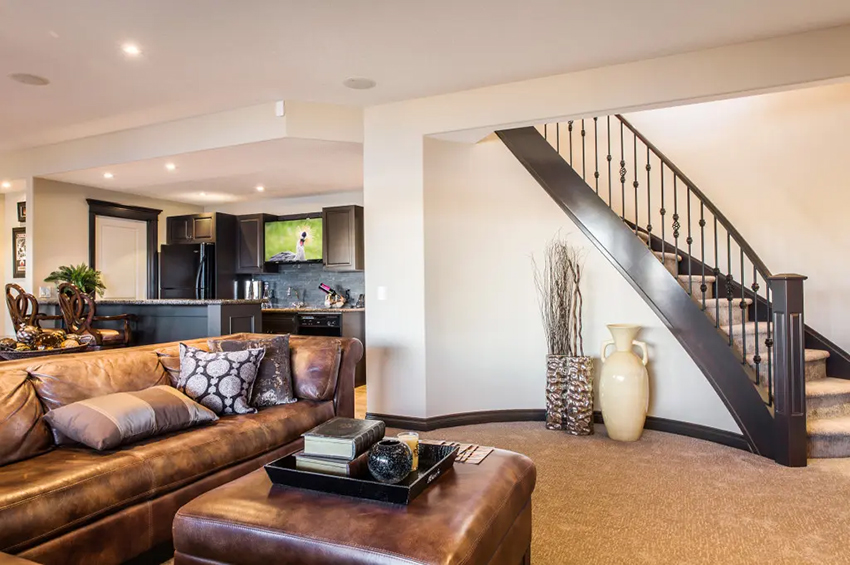 Quicklinks:
Gone are the days when basements were dark, scary places primarily used for storage and laundry. As of late, homeowners in Calgary are discovering the potential of transforming their basements into practical and exciting living areas. Making use of your basement's ample space won't only serve a practical purpose, but finishing or improving additional living space in your home has the power to enhance the overall value of your property as well.
Living through the pandemic has undoubtedly compelled Calgarians to reevaluate the way we think of our homes, and as such, the expectations we have of our living spaces have changed significantly. Even though we have returned to a sense of normalcy, the importance of having sufficient living spaces under our own roof that cater to both work and play for the entire family cannot be overstated. Therefore, the square footage found in the lower levels of our house is now being utilized more than ever before!
Let's take a look at the latest and increasingly popular Calgary basement ideas and renovation trends of 2023 that can transform your lower level into a cozy and entertaining hub for you and your family.
1) Basement Remodels that include a Home Gym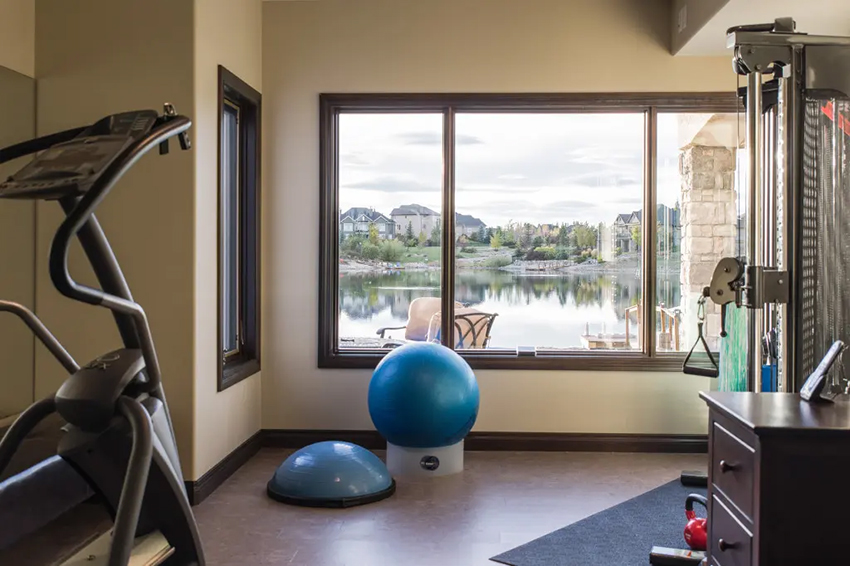 It has been reported that 73% of Canadians say they prefer to exercise on their own rather than in a gym or group. So, it's no surprise that home gym equipment has become an increasingly popular request from homeowners when they decide to transform their lower levels.
When designing these personal fitness retreats, here are a few ideas you should consider!
Leave Room for Relaxation
In 2023, fitness routines have evolved beyond just weights and treadmills. Yoga has become an essential part of many people's fitness regimens, highlighting the need for ample space to stretch and meditate, prioritizing mental wellness as much as physical health.
Choose Your Colours with Care
Choosing the colours of a home gym carefully is essential for creating an environment that can positively impact our mood, energy levels, and motivation. Studies have shown that colours can affect our emotional and physical wellbeing, which can directly impact the effectiveness of a workout.
Flooring Matters
When designing a workout space, it is essential to include a high-quality floor for a home gym. Not only does it protect the underlying surface, but it is also easy to clean and helps to absorb the noise caused by weights dropping on the floor.
2) Finished Basements that include a Home Theatre
The desire to have home theatres and multipurpose media rooms included in Calgary basement renovation designs has significantly increased over the past few years due to new ways homeowners are living, working, learning, and playing in their homes, as well as the continued surge of available technology. This trend shows no signs of slowing down any time soon.
Pinnacle Group Renovations is proud to partner with Digilife to help bring the ultimate home entertainment and tech experience to our Client Families. With their commitment to adopting the latest technology trends and products, we are confident in their ability to provide highly skilled installation and innovative design and development services that will elevate our clients' connected lifestyle. We take pride in this partnership and look forward to working with Digilife to make our clients' home entertainment and tech dreams a reality.
3) Basement Ideas in 2023 Include a Secondary Suite
What is a secondary suite?
According to the City of Calgary, a secondary suite is a self-contained residence, located within a main residence, with two or more rooms and includes a kitchen, living, sleeping and sanitary facilities.
Secondary suites can offer significant advantages to both homeowners and renters, as well as the wider community and city of Calgary. For homeowners, constructing a secondary suite can generate extra income to aid with mortgage payments, create additional living space for extended family members, and even boost resale value when completed to the city's standards.
The city of Calgary has its own standards and restrictions when it comes to legalizing your secondary suite. Things such as window size, entry/exit points and plumbing and HVAC all must be handled correctly.  Therefore, it is important to work with a qualified builder, like Pinnacle Group Renovations, to work through these specific details and to help ensure that your new basement suite meets the city's requirements.
4) Home Office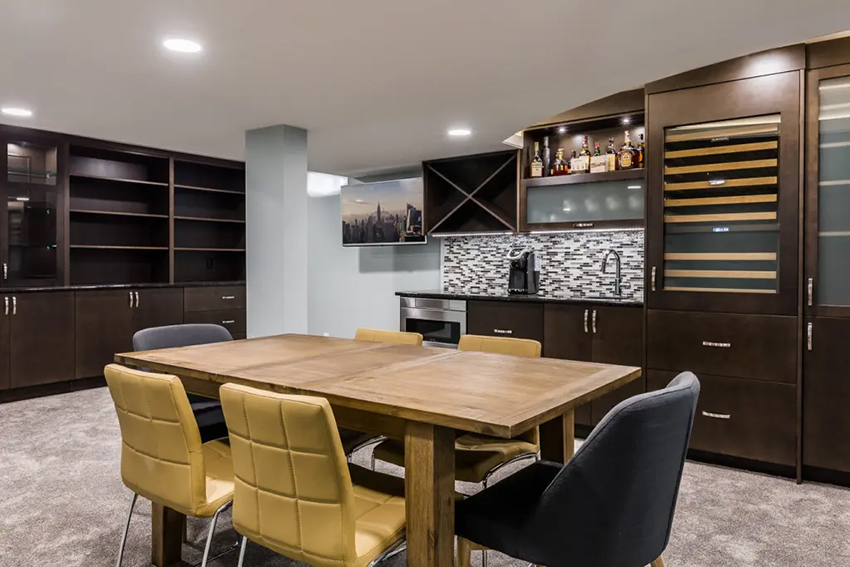 Anyone who has experienced working from home knows that it is not as easy as it may seem. With endless distractions, especially for homeowners with larger families, it's easy to lose focus if you don't have a quiet retreat away from the hustle and bustle of the rest of the house. Basements make great spaces for a home office for several reasons, besides just being quieter and more private. Since basements are typically located below ground level, they tend to be naturally cooler, which can be beneficial in the summer months and basements are often under-utilized, so converting this space into a home office can be an effective way to create a designated workspace without sacrificing living area in the rest of the home.
5) Wet/Dry Bars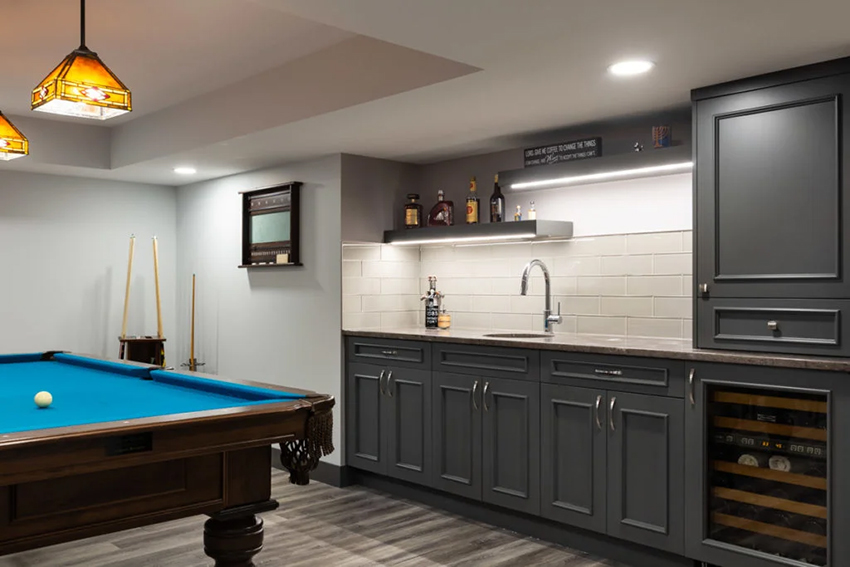 What is the difference between a wet bar and a dry bar, and which is right for your basement?
Both wet bars and dry bars are designed to simplify the process of entertaining at home. They are dedicated areas within your basement that will typically feature a large counter or bar, where you can prepare and store your drinks and snacks, without having to run upstairs to your main kitchen.
The main difference between a wet bar and a dry bar is that a wet bar has a sink and a water supply, while a dry bar does not. The addition of a sink and water supply allows for the preparation of beverages and an easier ability to wash used dishes and glassware on the spot.
When deciding between a wet bar and dry bar, both possess their own advantages and can be exceptional choices for entertaining in your renovated basement. Two things to consider with your basement ideas would be cost and plumbing accessibility.
In conclusion, creating a functional living space in your Calgary, Alberta basement will never go out of style. As Pinnacle Group Renovations founder Paul Klassen's own personal experience shows, creating a space in your basement can be an excellent investment for your family's comfort, safety, and enjoyment. By having a house renovation you're creating a unique space that suits your family's needs and interests, you can foster a sense of community, build memories, and ultimately add value to your home. Whether you're looking to create a cool hangout spot for your kids, a relaxing retreat for yourself, or a functional workspace, Pinnacle Group Renovations can help you bring your vision to life. Contact us today to learn more about our basement ideas and renovation services in Calgary, Alberta.