Okotoks Bathroom Renovations
What You Need to Know About Okotoks Bathroom Renovations
If you want to learn more about bathroom renovations in Okotoks, you have come to the right place! Whether it is a powder room, main floor bathroom or private master bedroom ensuite, these are the most utilized spaces in your home. Such an intimate space requires both comfort and privacy for both you and your guests. Okotoks Home Builders like Pinnacle Group are focused on creating selective bathroom designs and ensuite spaces that incorporate the very best of functionality and personal design inspirations.
Okotoks Home Builder Pinnacle Group's award-winning bathroom designs are synonymous with quality and astute design taste. Whatever reason you have for seeking bathroom renovations in Okotoks, know that you can always count on our team of experts to provide you with the very best guidance in transforming this personal space.
Why Choose Pinnacle Group for Bathroom Renos in Okotoks?
When it comes to custom bathrooms in Okotoks, we know the biggest concerns homeowners have are that the start date and completion dates you were promised by Okotoks Home Builders will be met and that your budget requirements will be adhered to.
When you choose Pinnacle Group for your bathroom remodeling in Okotoks, our top priority is providing you with an experience that is enjoyable and stress free. We offer all our clients our SCC 3-Way Guarantee™. Simply put, we guarantee your start date, completion date, and bathroom renovation cost. We are the only RenoMark™ Renovator to offer this level of guarantee, providing you with the peace of mind that your bathroom remodel is in good hands.
What We Do
No matter the complexity of your Okotoks bathroom renovation, we are confident that our processes and systems, developed over years of experience, will ensure you achieve a successful final result. Our bathroom design in Okotoks incorporate the very best of quality craftsmanship, industry standards, and the design nuances that best reflect your family's intimate needs.
Our team of expert Home Builders Okotoks renovation consultants, architects, designers, production staff, trades and suppliers, work efficiently together using Pinnacle's Building Planning Process. This helps us guide you through the entire bathroom reno Okotoks process from start to finish.
We understand that bathroom renovations are often part of a larger scale whole home renovation. If you require more than a bathroom makeover, we can help determine how to plan your renovation in stages, if necessary. As an Okotoks Home Builder expert, we will help you evaluate your overall goals to ensure any unnecessary costs or redundancies are avoided.
Luxury Bathroom Designs by Pinnacle Group
Delays in cabinetry can bring bathroom renovations in Okotoks to a grinding halt; resulting in cost over-runs and missed completion dates. That is why we have our own in-house cabinetry and millwork division, Pinnacle Custom Cabinets, to mitigate this challenge.
Our designers love the fact they can create a limitless colour palate when it comes to incorporating custom cabinetry into your bathroom design, leaving you free to explore a myriad of bathroom remodeling ideas. There may be plenty of bathroom renovation companies in Okotoks, however there are none quite like us; learn more about Pinnacle Group's expertise below with our frequently asked questions.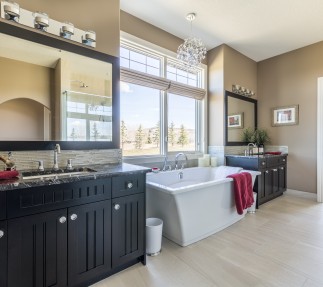 This family found a beautiful property near Priddis, but they always knew the home had more potential.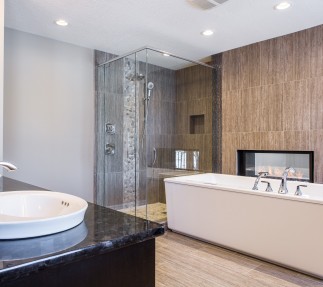 This home was completely demolished before we rebuilt it from the ground up in order to maximize use of land and raise ceiling height in the basement.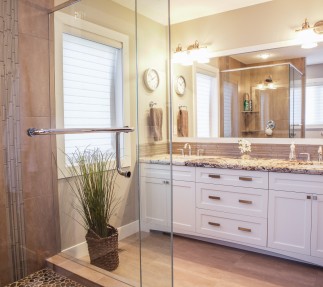 A complete exterior and interior redesign has transformed this home; the existing uninspired design was completely redone to achieve this spectacularly finished home in the beautiful community of Bearspaw.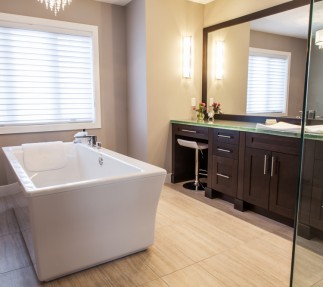 View this awe-inspiring renovation including a complete 'demo to the studs' as well as a second storey Master Retreat addition.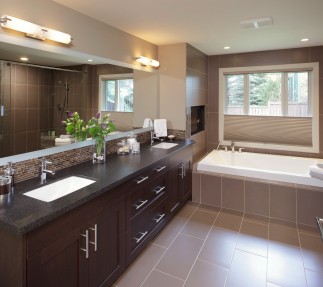 From drab and dated to sleek and chic, this 1970's bungalow gets a full main floor and basement makeover!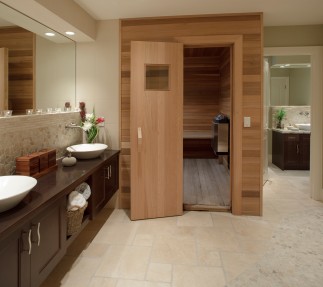 An all-encompassing renovation takes this family home from a tired bungalow to a fabulous retreat; complete with spa, fitness room and solarium!
Think it's time for a bathroom renovation?
Request a free comprehensive design
consultation from our experts!
It's a great opportunity to get ideas and ask all the questions that you've been thinking about regarding your project. This consultation is valued at $405. But all it will cost you is your time. Complete the form below and we will contact you with the details.
Benefits of a Design Consultation

Get a professional assessment

Prepare for budgeting and planning

Check a wide availability of resources

Access a trained eye on home design
Our Performance From Our Customer's Perspective