Calgary Bathroom Renovations & Design Planning
What You Need to Know About Calgary Bathroom Renovations
If you want to learn more about home renovations and having the perfect custom space built for your Calgary home, you have come to the right place! The bathrooms in your home should exude a sense of comfort and privacy; both for your own use and those of your guests. When you feel anything less than that from the design of this intimate space, it may be time to consider renovating. Pinnacle Group Renovations is focused on creating distinctive bathroom designs and ensuite spaces that incorporate the very best of functionality and personal requirements.
As an award-winning Renovation and Custom Build firm, Pinnacle Group is a name that homeowners trust for their renos. You can always count on our team of experts to provide you with the very best guidance in transforming this personal space.
Bathroom Design & Remodelling FAQs
Here is a compilation of frequently asked questions we often hear when it comes to creating a custom bathroom:
Bathroom Renovation Case Study
Here is a case study from when our team was creating a custom bathroom:
What were the criteria for this ensuite Renovation?
Increase the footprint of the ensuite.
Create a relaxing, elegant ensuite sanctuary.
Position the large soaker tub as the focal point.
Integrate a crisp, contemporary design concept.
Incorporate an ample makeup counter.
Utilize a single sink as the couple is on different work schedules and never use the bathroom at the same time so dual sinks aren't necessary; extra counter space was preferred instead.
Amplify the natural light transfer.
How was the criteria met?
There was no available floor space in the existing home to accommodate an expansive ensuite, so a new floor addition was added. To successfully create the sanctuary feel, this entire space was dedicated to its own exclusive floor alongside the master bedroom. Integrating the centrally located soaker tub required a significant footprint; this was considered in the initial design development. The custom glass counter from Quebec and the stainless substrate from a local artisan supported the contemporary design concept, along with the crisp, clean organic palette. The natural light transference was achieved with the charming, sizeable window and the incorporation of the exquisite chandelier further enhances the mood of this comforting retreat.
What are the special features and innovations?
Custom contemporary glass counter with stainless steel substrate.
Oversized walk-in shower with 10 mm glass, dual shower heads, and intricate shower tile design.
Standalone soaker tub.
Heated flooring with large scale rectangular tile format.
Ceiling speakers with integrated whole home sound system.
If you would like to see the images from this specific case study visit Reno Gallery 35.
If you would like to see more of our Calgary bathroom renovations be sure to browse our main renovations gallery.
A Preview Of Our Bathroom Renovation Galleries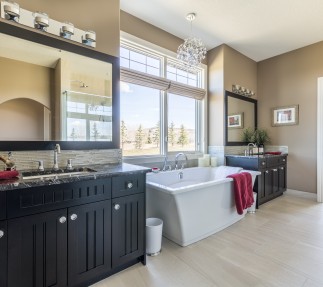 This family found a beautiful property near Priddis, but they always knew the home had more potential.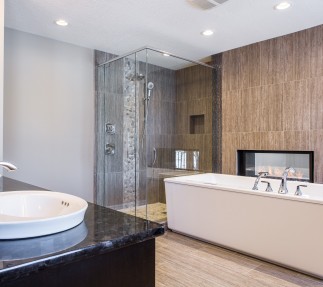 This home was completely demolished before we rebuilt it from the ground up in order to maximize use of land and raise ceiling height in the basement.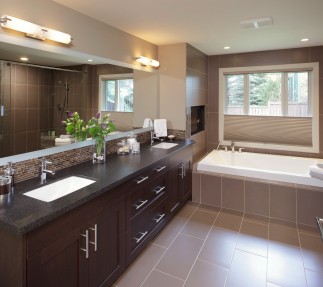 From drab and dated to sleek and chic, this 1970's bungalow gets a full main floor and basement makeover!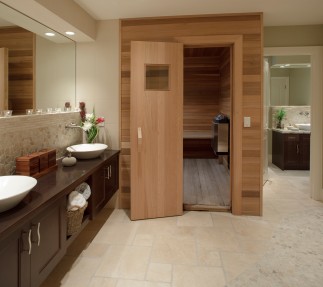 An all-encompassing renovation takes this family home from a tired bungalow to a fabulous retreat; complete with spa, fitness room and solarium!
Think it's time for a bathroom renovation?
Request a free comprehensive design
consultation from our experts!
It's a great opportunity to get ideas and ask all the questions that you've been thinking about regarding your Calgary Bathroom Renovations. This consultation is valued at $405. But all it will cost you is your time. Complete the form below and we will contact you with the details.
Benefits of a Design Consultation

Get a professional assessment

Prepare for budgeting and planning

Check a wide availability of resources

Access a trained eye on home design
Our Performance From Our Customer's Perspective
Overall Impression
This chart shows the results of the Overall Impression of the client experience with the Pinnacle Renovations Group. For example, 95% of clients feel that Pinnacle provided the technical expertise required for their project.
100% Satisfied with the Overal Quality of Pinnacle's Workmanship
95%Pinnacle provided the technical expertise required for our project
89%Our project started on schedule
89%Our project was completed in alignment with the original cost proposal
90%We will recommend neighbors & friends to the Pinnacle Group
Design & Production Experience
The above chart shows the feedback results of what Pinnacle Renovations Group clients experience in the purchase and design phase of their project. For example, 95% of clients say that Pinnacle's staff were pleasant and professional.
95% Pinnacle's Reno Consultant Listened & Understood Uur Needs
95%Pinnacle's Staff Were Pleasant & Professional
100% We Are Pleased with the Design of Our Project
95% The Site Supervisor demonstrated knowledge & understanding of our project
89% Post Project issues were resolved in a timely manner