Calgary Exterior Home Renovations
What You Need to Know About Calgary Home Exterior Renovations
The exterior of your home is your statement of expression; representing both pride of ownership and curb appeal. Pinnacle Group home renovators work to achieve the balance between the homeowners design preferences, while at the same time complementing the neighbourhood stylings.
As an award-winning Renovation and Custom Build firm, Pinnacle Group is a name that homeowners trust for their exterior home design services and renovations. Whatever reason you have for seeking exterior home remodeling, know that you can always count on our team of experts to provide you with the very best guidance in achieving your transformation.
Pinnacle Group specializes in providing exterior renovations for homeowners looking to rejuvenate their tired exteriors and who want to accomplish a complete makeover to improve their curb appeal. However, if you are looking for specific exterior services like siding, roofing or soffet replacement, we are happy to connect you with our experienced and professional network of suppliers, who we have personally vetted; we are confident they will provide you with the highest standard of customer service and expertise.
No matter the scope of your exterior renovations, we understand the primary concerns all homeowners share when it comes to Calgary exterior renovations; they want to know that the start date and completion dates they have been promised by Calgary renovation companies will be met and they want to know their budget will be adhered to.
When you choose Pinnacle Group for your exterior remodeling, you can rest assured that our top priority is providing you with an experience that is as stress free as possible, with a guaranteed project cost. That is why we offer you our SCC 3-Way Guarantee™. Simply put; we guarantee your Start date, Completion date and Cost of your exterior home renovation.
We are proud to be the only RenoMark™ Renovator to offer this level of guarantee to all our customers and provide you with the peace of mind that your home exterior remodel truly is in good hands.
Pinnacle Group's in-house Architectural Technologist team is not only technically advanced but also extremely talented artistically. We provide our clients with illustrative representations of what their exteriors could look like that are second to none. However, this is not just a pretty rendering; all of our illustrative representations are structurally sound, in that they have been designed with the intent of actually working with your existing structure. We ensure that not only are our proposed designs technically accurate, they will adhere to your budget expectations. Sometimes clients request that we provide 3 designs (good, better, best) so they can visually understand the comparison these 3 scenarios provide. In addition, these personalized exterior renderings can be used to show you various home styles to see stylistically what you prefer.
Here is an example of an actual case study of 3 exterior rendering designs presented to a client in the community of Glendale. They wanted to see a comparison of French Country, Arts and Crafts and Modern. The client eventually chose the Arts & Crafts design styling.
Sometimes, clients come to us with the intention of completing an interior renovation first, with the understanding they want to plan for home exterior renovations in a later phase. If this is the case, we will advise you as to how much of the interior renovation will affect the exterior. Our detailed Design Discovery Process allows us to properly plan for future renovation projects; helping you save both time and money by preventing redundant expenditures.
Clients often need ideas and inspirations to decide what exactly it is they want to do to their home. That is why we provide plenty of opportunities to not only attend seminars to learn more about the options available to you when it comes to renovations but we also open up our doors to as many projects as possible, both in progress and completed. This allows you to see first-hand, the array of design and engineering solutions possible and accelerates your own ideas for your Calgary exterior renovations project. To sign up to receive notifications of upcoming events, click here. We also encourage you to order your Free Project Idea Book to organize all your research and ideas as you gather inspirations for your exterior transformation.
A Preview Of Our Exterior Renovations
The homeowners have lived in this beautiful community for 20 years and couldn't imagine living anywhere else. We added retaining walls to redesign their landscaping and extended the floor-plan to create their dream home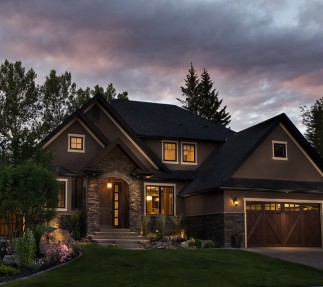 This home was completely demolished before we rebuilt it from the ground up in order to maximize use of land and raise ceiling height in the basement.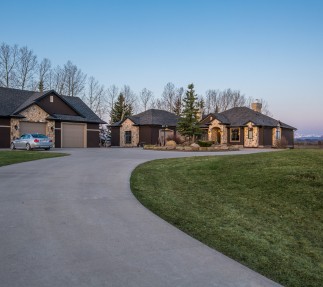 This family found a beautiful property near Priddis, but they always knew the home had more potential.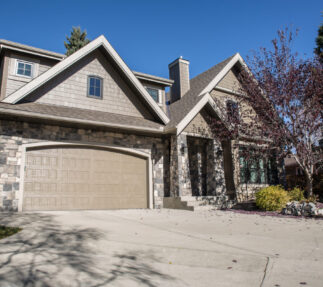 What do you do if the footprint of your existing home is not large enough to meet your design goals? Our design team provided an intricate solution that included 2 second story additions.
Think it's time for a home exterior makeover?
Request a free comprehensive design
consultation from our experts!
It's a great opportunity to get ideas and ask all the questions that you've been thinking about regarding your project. This consultation is valued at $405. But all it will cost you is your time. Complete the form below and we will contact you with the details.
Benefits of a Design Consultation

Get a professional assessment

Prepare for budgeting and planning

Check a wide availability of resources

Access a trained eye on home design
Our Performance From Our Customer's Perspective
Overall Impression
This chart shows the results of the Overall Impression of the client experience with the Pinnacle Group. For example, 95% of clients feel that Pinnacle provided the technical expertise required for their project.
100% Satisfied with the Overal Quality of Pinnacle's Workmanship
95%Pinnacle provided the technical expertise required for our project
89%Our project started on schedule
89%Our project was completed in alignment with the original cost proposal
90%We will recommend neighbors & friends to the Pinnacle Group
Design & Production Experience
The above chart shows the feedback results of what Pinnacle Group clients experience in the purchase and design phase of their project. For example, 95% of clients say that Pinnacle's staff were pleasant and professional.
95% Pinnacle's Reno Consultant Listened & Understood Uur Needs
95%Pinnacle's Staff Were Pleasant & Professional
100% We Are Pleased with the Design of Our Project
95% The Site Supervisor demonstrated knowledge & understanding of our project
89% Post Project issues were resolved in a timely manner