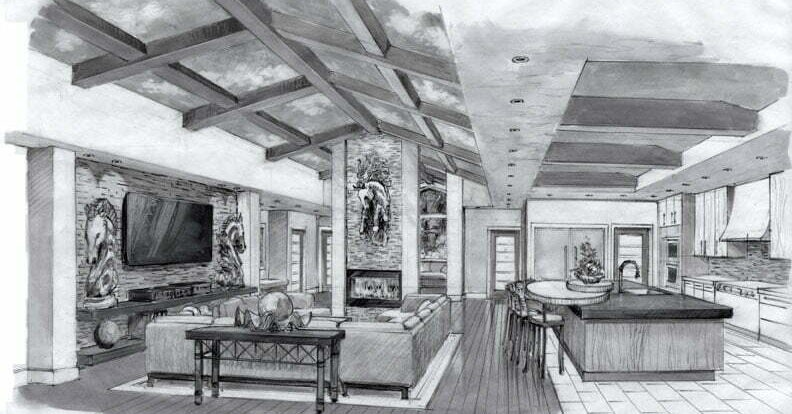 At Pinnacle Group Renovations in Calgary all our high-end Interior designs come with our vast expertise in construction and home building. We are experts in creating aesthetically pleasing and functional living spaces that are tuned to your particular taste, lifestyle and your vision for the future in your home.
Interior design enhances the space through detailing the functionality and aesthetic quality of each room in the home. We truly believe that starting with the selection and design of the most important and budget sensitive Interior elements—such as staircases, built-ins, closets, paneling, and wainscoting…etc. in the planning stage of interior design is very important. We will address points of frustration in your current spaces as well as delve into design inspirations unique to you and your family; these are what we refer to as "inspired living" influences and ultimately what makes your house a home. Perhaps it is a special hobby, activity or sport, a favourite place to travel, or a family heirloom that is creatively tied into the rich atmosphere we help you conceive. We will help you select a colour palette that will bring a personality to your home and set the right mood for each room, and assist you in bringing together the architectural design with elegant, quality furnishings and accents to best showcase your home.
Our interior design services include:
Lighting + Ceiling Design
Flooring + Cabinetry + Furniture Layouts
Kitchen + Bathroom Design
Fireplace + Stair Design
Electrical Plans
All Interior Fixture + Finishing Selections
Home styling and furnishing
Custom furniture and windows treatments
Sketch Design + 3D Renderings
Ideas from our design team for your perusal
Request a free comprehensive design
consultation from our experts!
It's a great opportunity to get ideas and ask all the questions that you've been thinking about regarding your project. This consultation is valued at $405. But all it will cost you is your time. Complete the form below and we will contact you with the details.
Benefits of a Design Consultation

Get a professional assessment

Prepare for budgeting and planning

Check a wide availability of resources

Access a trained eye on home design
Our Performance From Our Customer's Perspective
Overall Impression
This chart shows the results of the Overall Impression of the client experience with the Pinnacle Group. For example, 95% of clients feel that Pinnacle provided the technical expertise required for their project.
100% Satisfied with the Overal Quality of Pinnacle's Workmanship
95%Pinnacle provided the technical expertise required for our project
89%Our project started on schedule
89%Our project was completed in alignment with the original cost proposal
90%We will recommend neighbors & friends to the Pinnacle Group
Design & Production Experience
The above chart shows the feedback results of what Pinnacle Group clients experience in the purchase and design phase of their project. For example, 95% of clients say that Pinnacle's staff were pleasant and professional.
95% Pinnacle's Reno Consultant Listened & Understood Uur Needs
95%Pinnacle's Staff Were Pleasant & Professional
100% We Are Pleased with the Design of Our Project
95% The Site Supervisor demonstrated knowledge & understanding of our project
89% Post Project issues were resolved in a timely manner