Calgary Custom Kitchen Renovations
What You Need to Know About Kitchen Renos
If you want to learn more about creating a gorgeous custom kitchen using Pinnacle's Design-Build services, you have come to the right place! The heart of every home is the kitchen; it's where the family unit gathers to begin and end their day, celebrate milestone events and entertain guests. Ensuring that your kitchen space is not only functional but aesthetically pleasing is where the designers at Pinnacle Group excel. Our experience working with a variety of different budgets, timelines and spaces gives us the knowledge and kitchen design ideas to provide kitchen renovations Calgary homeowners simply adore. The positive feedback we receive from previous clients only motivates our designers and builders to continue outdoing themselves on every project. From kitchen renovations to custom builds, each construction is a unique design undertaking. There are no ordinary home or kitchen remodels for our team. When you work with Pinnacle Group for your home renovation, you can be sure that you'll receive a customized kitchen, specific to your family.
If you are considering renovating your kitchen, hiring a trustworthy and professional renovator is essential; this will ensure you are carefully guided through the various steps to achieve a successful end result for your kitchen improvement project. Utilizing Pinnacle Group's proprietary Design Discovery Process, our team will help uncover your specific Calgary kitchen remodeling needs so your kitchen is both a functional and inspirational living space.
Asking the right questions from the onset is imperative; questions like:
Do you have adequate workspace, kitchen cabinet and countertop space?
Is your current kitchen layout comfortable or a hassle?
How much importance does your family place on your kitchen space?
Is your kitchen bright enough?
Do you do a significant amount of entertaining in your kitchen or in general?
Are there any aging in place considerations you would like to incorporate into your kitchen renovations?
Having Pinnacle's experts ask you questions about your kitchen renovations that you may not have thought about will ensure no stone is left unturned when it comes to your Calgary kitchen design and will eliminate regrets after the completion of your kitchen renovation. Our eye for creative and pragmatic kitchen remodeling designs that are custom to your family's specific kitchen improvement needs, means your kitchen space will be one that you and your family enjoy spending time in now and long into the future.
Pinnacle Group Renovations handles all aspects of your kitchen remodeling from start to finish; as a Calgary Design-Build firm, this means we are your one stop shop for all your kitchen renovation needs. Your kitchen design will embody both the functional requirements in concert with the aesthetic qualities that best represent your style preferences. As well, our in-house cabinetry division led by our skilled and talented artisans provides the impeccable custom millwork and cabinetry featured in all our projects.  Our expert team is your solution to all-things kitchen renovations Calgary.
A Preview Of Our Kitchen Renovations Galleries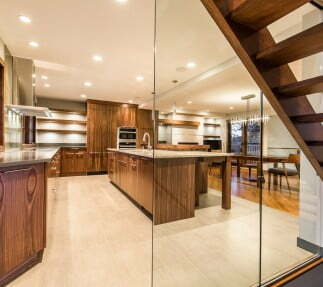 This home has been the residence of one family for over 30 years. After raising all of their children and countless memories within the walls, the homeowners decided to embark on their dream renovation that would meet their needs without having to relocate.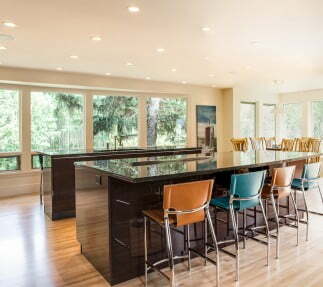 An exquisite custom two-island design was created to suit the unique needs of this Springbank home. In addition, a complete basement overhaul has turned one of the least used areas of the house into a haven for all family members.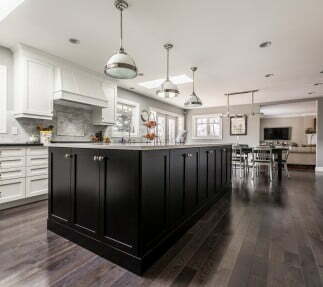 Adding 4 feet onto the back of this house has completely transformed the main floor, and enabled us to design a glorious custom kitchen.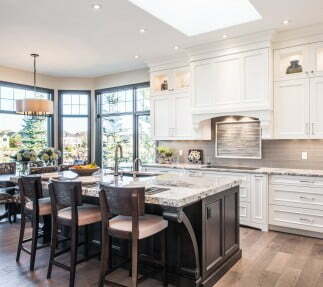 Utilizing Pinnacle's Stage It Sold™ program, this Client Family evaluated their top real estate findings to determine which home would best suite their changing lifestyle needs.
Think it's time for a kitchen renovation?
Request a free comprehensive design
consultation from our experts!
It's a great opportunity to get ideas and ask all the questions that you've been thinking about regarding your project. This consultation is valued at $405. But all it will cost you is your time. Complete the form below and we will contact you with the details.
Benefits of a Design Consultation

Get a professional assessment

Prepare for budgeting and planning

Check a wide availability of resources

Access a trained eye on home design
Our Performance From Our Customer's Perspective
Overall Impression
This chart shows the results of the Overall Impression of the client experience with the Pinnacle Group. For example, 95% of clients feel that Pinnacle provided the technical expertise required for their project.
100% Satisfied with the Overal Quality of Pinnacle's Workmanship
95%Pinnacle provided the technical expertise required for our project
89%Our project started on schedule
89%Our project was completed in alignment with the original cost proposal
90%We will recommend neighbors & friends to the Pinnacle Group
Design & Production Experience
The above chart shows the feedback results of what Pinnacle Group clients experience in the purchase and design phase of their project. For example, 95% of clients say that Pinnacle's staff were pleasant and professional.
95% Pinnacle's Reno Consultant Listened & Understood Uur Needs
95%Pinnacle's Staff Were Pleasant & Professional
100% We Are Pleased with the Design of Our Project
95% The Site Supervisor demonstrated knowledge & understanding of our project
89% Post Project issues were resolved in a timely manner