Calgary residents considering basement renovations often lack the complete set of skills required to tackle the project themselves. They resolve to make minor cosmetic changes such as installing new flooring or painting the walls but they don't benefit from improving the actual layout and making the most out of their basement living space. There are several trending options for transforming basement spaces; the most popular are adding on a games room, extra bedroom, hobby room, wine room, home theatre, workout room, or in some cases, homeowners have completely transformed the entire basement into the epitome of what is considered a "man cave".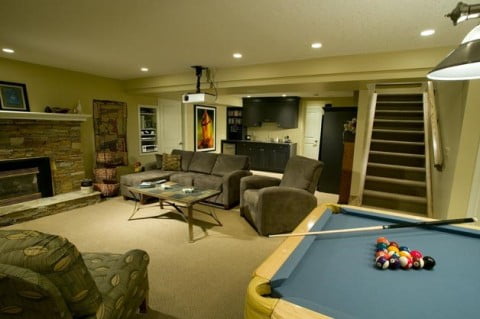 Basement Games Room
A games room in your basement can provide you with the ideal place to enjoy recreational activity with your family. It can take a lot of effort, however, to turn your bare and damp basement into somewhere you'll want to spend time; it requires more than just throwing down a piece of remnant carpet and a pool table; you need a well-insulated area with sufficient natural lighting, warm and cozy flooring and décor that reflects your family's style and interests.
You'll also need to incorporate the proper furniture that is comfortable, relaxing and can take some wear and tear. Entertainment pieces should be those your family enjoys the most and will actually put to use; whether that be a gaming table for poker nights, air hockey, a billiards table, a ping pong table or the latest gaming console, or board games that your family and friends enjoy or maybe it is a combination of all of the above!
Basement Bedroom
Another option you can pursue is to convert space in your basement for an extra bedroom. For those that find it especially difficult to sleep, a bedroom basement can be the perfect haven away from noise and distraction to ensure a sound sleep. Again, a well-insulated area with sufficient natural lighting will make the bedroom welcoming and create the proper temperature that is comfortable for sleep; you don't want it too cold in the winter months or stifling hot in the summer. Once these factors are taken care of, some proper flooring and painting will easily finish it off and can be accented with stylish bedding and throw pillows.
Expert Help
While some of these changes can be done on your own, renovation companies like Pinnacle Group can take the stress out of the process and ensure the end result is professional and meets all the needs of your home transformation project. They can provide expert advice and create a plan of action that allows you to complete your basement renovation project on time and on budget.  View our blog on the costs of a basement renovation here!
Source:
Make Your Basement A Game Room, AskMen.com
30 Basement Remodeling Ideas + Inspiration, Home Designing
Easy Tips To Help Create The Perfect Basement Bedroom, Decoist