5 Essential Senior Bathroom Renovations
Almost 100% of older Canadians surveyed said they want to continue to live independently in their own homes. For seniors, achieving this level of independence is certainly possible, however it often requires the renovation or modification of current living spaces, such as bathrooms.
Bathrooms can be a particularly hazardous area for people of all ages, but especially older adults living at home. These rooms tend to be tighter spaces with slippery surfaces, hard elements and sharp edges. According to a recent report from the Center for Disease Control and Prevention, approximately 234,000 people aged 15 and older are treated each year due to bathroom injuries, and 30% of adults aged 65 and above who suffered bathroom injuries experienced fractures. In addition, among those adults aged 85 and older, 38% were hospitalized due to their injuries.
Providing aging adults with the ability to use their washrooms safely and easily on their own allows them to age in place gracefully. At Pinnacle Group, our goal is to create accessible living spaces that are not only safe, but stylish as well. We are firm believers that senior friendly home renovations do not have to appear cold or medicinal in any way!
So, how can you make bathrooms more senior friendly? 
Whether you or your older family members are proactively planning ahead, or you require immediate assistance from an experienced renovator, here are 5 essential senior bathroom renovations to consider.
1. Tub to Shower Conversion
One of the most concerning actions for seniors in the bathroom is stepping in and out the bathtub. The balance needed to lift one leg up and over a tub's edge, often on a wet and slippery surface, might not seem that dangerous to most younger people, but as we age or face mobility issues this can become an extremely precarious motion. 
Most people are familiar with the walk-in tub products that are available on the market today. Unfortunately, we do not see these as great options for our Client Families as they consider senior bathroom renovation ideas for their own projects.
Here are just a few cons of a walk-in tub:
Due to the door and deep design, you must enter walk-in tubs prior to filling. Not only does this leave the senior homeowner sitting cold as he/she waits for the water to rise, it also doesn't give you much of a chance to find the perfect water temperature before exposing your skin to the water. You must also drain the tub before exiting which can cause internal body temperatures to drop as you wait.
Because walk-in tubs cannot be filled or drained with the door open, the time it takes to complete either process is considerably longer. In fact, some walk-in tub products have been known to take as long as 15 minutes to completely drain or fill.
Many walk-in tubs come equipped with doors that swing inwards; however, some do have swing-out doors to help with the ease of access. The risk of flooding can be considered higher with a walk-in tub, because if your door swings out and is not latched properly as the water begins to rise, you can end up with a room full of water very quickly.

 
So, if a walk-in tub isn't the best solution, how do you make bathing safer for seniors?
Replacing your standard bathtub with a curbless shower, also called a zero-threshold or barrier free shower, can be an excellent choice when completing your own senior friendly bathroom renovation in Calgary, Alberta. Curbless entry showers makes entering and exiting as easy as possible for everyone, but especially those homeowners who require the assistance of mobility aids such as wheelchairs and walkers, or the help of family members and care staff. Designing a curbless shower in your senior friendly bathroom also gives you an opportunity to select materials that are less likely to cause a slip and fall when they get wet or soapy. 
2) Enlarging Your Bathroom
Bathrooms are commonly smaller areas of our homes, and seniors, even those who aren't using the assistance of a mobility aid, will often find them challenging to move around in comfortably. 
According to the Americans with Disabilities Act a 5-foot radius is required to allow a wheelchair to properly turn and maneuver in an accessible bathroom space. However, enlarging your bathroom's floorplan is not only beneficial to seniors and those using the assistance of a wheelchair, making this space bigger can also be considered a significant step towards creating a more universally designed bathroom, which means it is more accessible for everyone.  
If you are designing a senior friendly bathroom around the current need for a wheelchair, or planning ahead for the future, you will also want to consider the height of sinks and faucets. To meet ADA (Americans with Disabilities Act) guidelines "sinks shouldn't be mounted higher than 34 inches from the floor, and they should have a knee clearance of 27 inches high, 30 inches wide, and 11 to 25 inches deep. You also need a clear floor space and insulated pipes under the sink."
3) Improving Lighting
When designing a senior friendly bathroom, proper lighting can be an extremely important safety feature to prioritize. According to the AAFP, "Loss of vision among the elderly is a major health care problem: approximately one in three elderly persons has some form of vision-reducing eye disease by the age of 65."
Increasing the amount of natural lighting in your bathroom by adding larger windows and skylights is an excellent way to help keep these spaces well-lit for seniors during the daytime, while also providing homeowners with additional health benefits. Allowing more natural light in your home has been shown to reduce stress and anxiety, improve concentration and focus, increase happiness, reduce Seasonal Affective Disorder, and more!
Consider how accessible the lighting controls are in your senior friendly bathroom. Make sure light switches are easy to reach and operate, or consider upgrading to a smart system that will allow you to control them by the sound of your voice, or even a clap. When installing the lighting fixtures, arrange them in a way that will allow burnt out bulbs to be changed without the need for ladders or stepping stools. This is especially important in more confined bathroom spaces.
While we are on the topic of lighting, please be sure to regularly inspect lighting in the bathroom and around other areas of a senior's home in order to catch burnt out bulbs before they become a problem. If you are able to make regular weekly stops to see elderly parents or grandparents, this is an incredibly helpful way to spend 5 or 10 minutes during your visit.
4) Installing Grab Bars
Because senior accidents at home are quite likely to happen in the bathroom, installing grab bars around toilets, showers and baths can help to provide much needed stability in the event of a potential fall. 
Circling back to our desire to help create safe bathroom designs for seniors without making the room feel cold and medicinal, Pinnacle Group will often use products such as INVISIA grab bars. These contemporary support bars are made to look just like modern shower shelving, soap dishes and towel bars, while also helping to make one of the most utilized rooms in a senior's home as safe as possible.
5) Installing Chair-height Toilets
As homeowners age, the act of squatting down on a toilet and getting back up again can become more and more difficult due to the loss of muscle strength or personal history with injuries. Comfort-height toilets, also known as chair-height toilets, are slightly taller than traditional seats making the act of sitting down and standing up to use them much easier for seniors.
A comfort height toilet that is compliant with the Americans with Disabilities Act (ADA), brings the seat up 17 to 19 inches from the floor. In comparison, the height of a standard toilet is about 15 inches from floor to seat. They are also often positioned further from walls on either side (typically, the minimum is 15"; we ensure it there is at least 18" of room for enhanced mobility).
Senior Bathroom Renovations Summary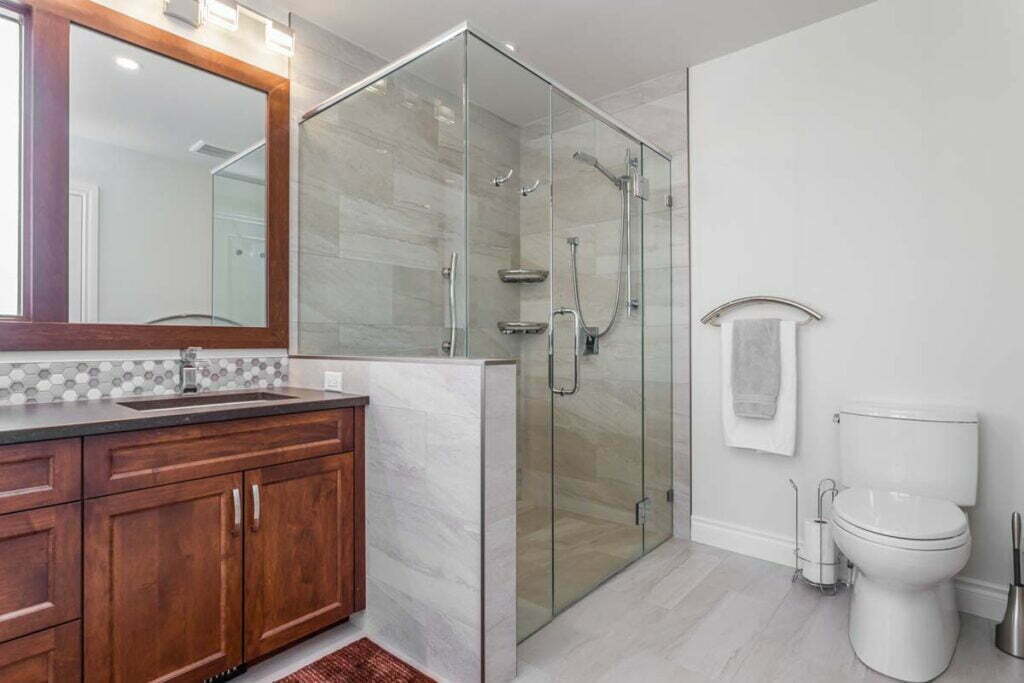 Ultimately enabling seniors to safely use the washroom on their own during their golden years allows them to live more independently and age in place with dignity. These senior friendly bathroom renovation ideas are all excellent ways to create safe and accessible spaces for you or the older adults in your life. 
At Pinnacle Group Renovations, our team and network of professionals work to educate and advocate; then Design and Build beautiful homes and renovations for those needing or choosing to live in accessible environments. Through our My Lifetime Home division, our goal is to have a single point of contact for all those choosing or needing home modifications to support lifestyle freedom and accessibility. By working alongside incredible organizations, such as Valley to Peak OT Consulting Ltd., we can confidently support senior homeowners or anyone in need of a more accessible living space from start to well beyond the finish line of any project.
Accessible Bathroom Renovations Has Made My Life "Unbelievable Easy" for This Calgary Family!
If you would like to speak with the knowledgeable and experienced team at Pinnacle Renovations about your own senior friendly bathroom remodel in Calgary – or any bathroom renovation – please contact us today!