How to Create a Mood Board for your Calgary Home Renovation Design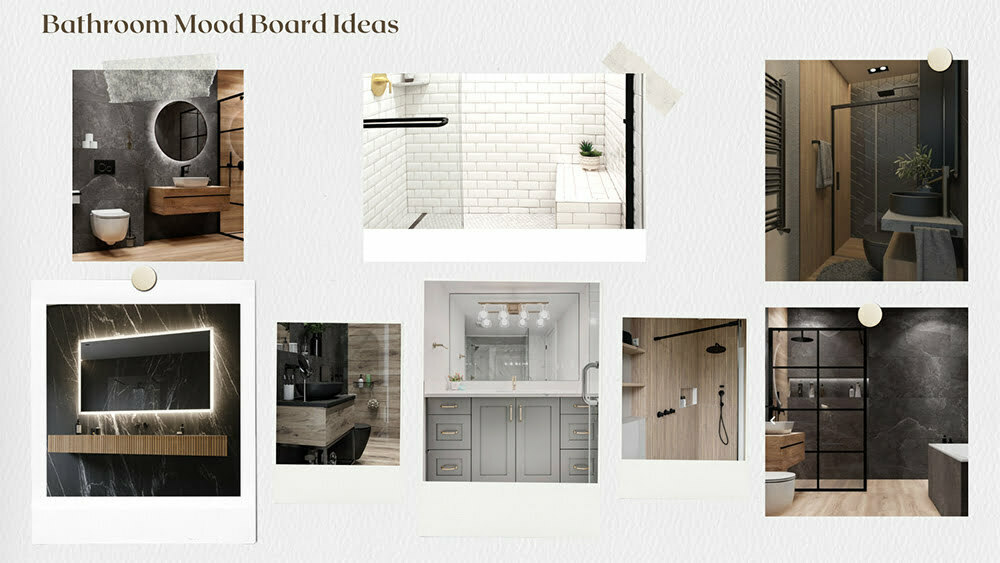 What is a Mood Board?
Mood Boards are an arrangement of images, materials, pieces of text, and other design elements intended to evoke or project a particular style or concept. 
They help our team at Pinnacle Group Renovations provide a base point for Client Families during the design process, by seeking out likes and dislikes based on a collection of images and items. These boards represent a synthesis of the latest ideas and inspirations for the project, and this offers our clients an early glimpse into what their finished home will soon become.
Why create Mood Boards?
Designing a brand-new living space in Calgary, Alberta that you and your family will love for many years to come requires an intentional and focused plan to help ensure you achieve the look you desire. 
When most people start dreaming of their own custom home renovations, they often have a head full of ideas that might not all co-exist in a finished project. Whether you're working with a professional Calgary renovation team, like Pinnacle Group Renovations, or preparing for a fun do-it-yourself job at home, Mood Boards offer a single reference point to help keep your project on track.
Should my Mood Board be physical or digital?
Choosing between a physical or digital Mood Board is a totally personal choice. 
For some, creating a physical craft-like project with scissors, tape and glue can be the best way to gather and layout their inspirations without the frustration of learning a new technology. A tangible Mood Board can also be beneficial for those who are collecting samples of flooring, paint and fabrics, and prefer to physically see and touch these items as the planning process moves along. 
For other more tech-savvy homeowners the use of a digital design platform, such as Canva, can provide a simple place to create and edit ideas, make use of some fabulous ready-made templates, and then share with renovation and design teams at the click of a button. A digital Mood Board will allow you to quickly pull images from product websites, Pinterest, Houzz, and other online sources, without needing to print each item off as you discover them.
How to find your design inspiration to create a Mood Board?
The vast amount of home design information waiting for us online is impressive, but it can also be overwhelming. Websites like Pinterest are packed-full of renovation inspiration, but if the purpose of a Mood Board is to focus the direction of your project, then pulling 100 photos from 100 different renovations is going to end up being more counter-productive than anything. 
When you begin to gather inspiration for your project, start with your favourite colours, fabrics, patterns, and furniture pieces to help guide your direction, but don't limit yourself by focusing only on interior design. This is your chance to get creative and draw inspiration from the elements of the natural world all around you.
If you are planning on working with a professional renovation company, consider waiting to speak with their expert designers and start your Mood Board together. Calgary home design pros, like the knowledgeable team here at Pinnacle Group Renovations, can offer up additional guidance and suggestions to help steer your Mood Board in the right direction.
What should be included in a Mood Board?
Mood Boards are the perfect way to envision the bigger picture of your home renovation project. Ultimately, a Mood Board is designed to help you see all of your ideas and inspirations in one place, so you can observe how well (or not) they work together.
For example, creating a Mood Board by combining all the right elements for a Calgary kitchen or bathroom renovation, will give you a sneak preview at how well your favourite faucet will match with your prized countertops, or how flawlessly your new cabinet colours will mesh with your number one backsplash selection. 
Here are some must-have design elements that you should include in a Mood Board for your home renovation.
Paint
Textures & Patterns
Fabrics
Tile
Artwork
Fixtures & Accessories
Flooring
Furniture
Wood tones
Graduating from Mood Board to Design Board
Your Mood Board will serve as a fantastic guide for you and your design team to work with throughout the initial planning phases of your renovation or custom build. Gathering your inspirations and ideas in one place will allow for both creative freedom and project coordination.  
A Design Board, also known as a Concept Board, is then used once selections are made by homeowners to help give them a better idea of how their chosen materials, fixtures and finishes will look in the new space.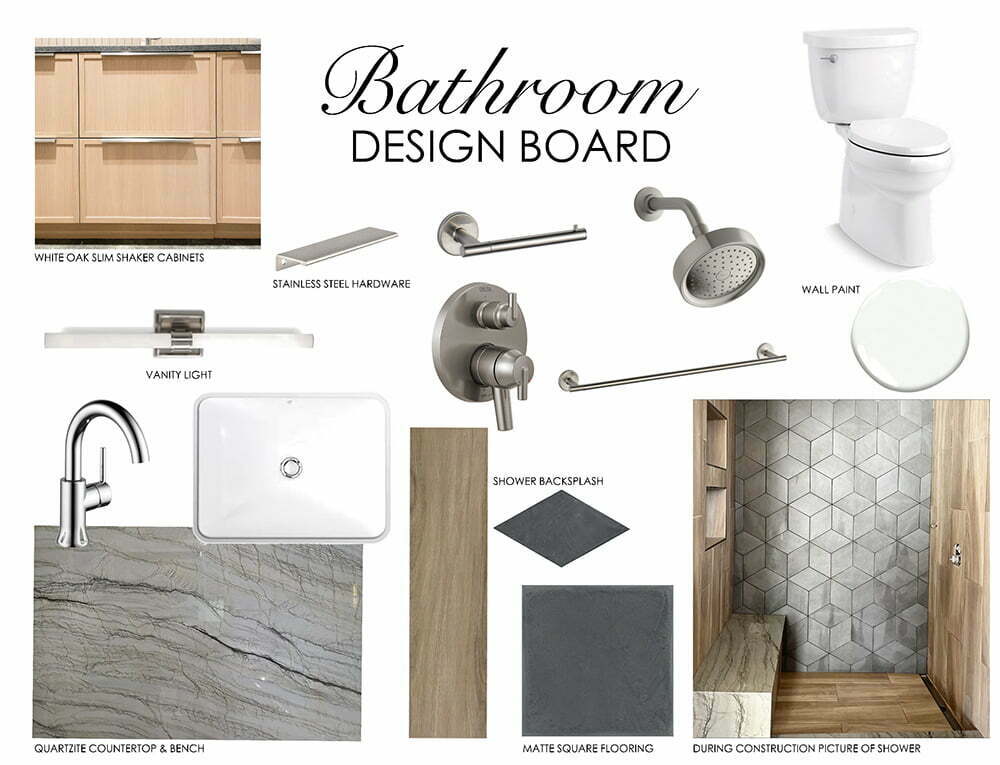 Combining these two tools can be an engaging way to stay organized, which will ultimately result in a more cohesive project. Mood Boards and Design Boards will enable you and your preferred Calgary renovation team to put together a focused plan for completing a polished custom home remodel. 
Whether you are thinking about an upscale complete home renovation, a one of a kind custom built home, or perhaps a room specific renovation such as a kitchen, basement, or bathroom/ensuite, Pinnacle Group offers a full range of Design-Build services to suit your needs. Our Design LookBook is a FREE digital download that showcases a number of the Calgary home renovation and custom build projects that we have designed with care for our client families. This compilation highlights examples of the exciting creative art visuals we use to help you accurately envision your home transformation, such as hand-drawn Artistic concept drawings, Mood Boards, Design Boards, and 3D Model Renderings & Floor Plans.
We recognize that starting the journey towards either a new custom home or renovating your current living spaces can be both daunting and exciting all at the same time. The prospect of moving down this path has been something that perhaps you have thought about for quite some time: it's now time to gather your design ideas and inspirations!  If you're ready to turn your Mood Board into a real renovation, or want to speak to an experienced Calgary home design & renovation team, request a FREE design consultation today!