How Much Does a Home Exterior Renovation Cost in Calgary, Alberta?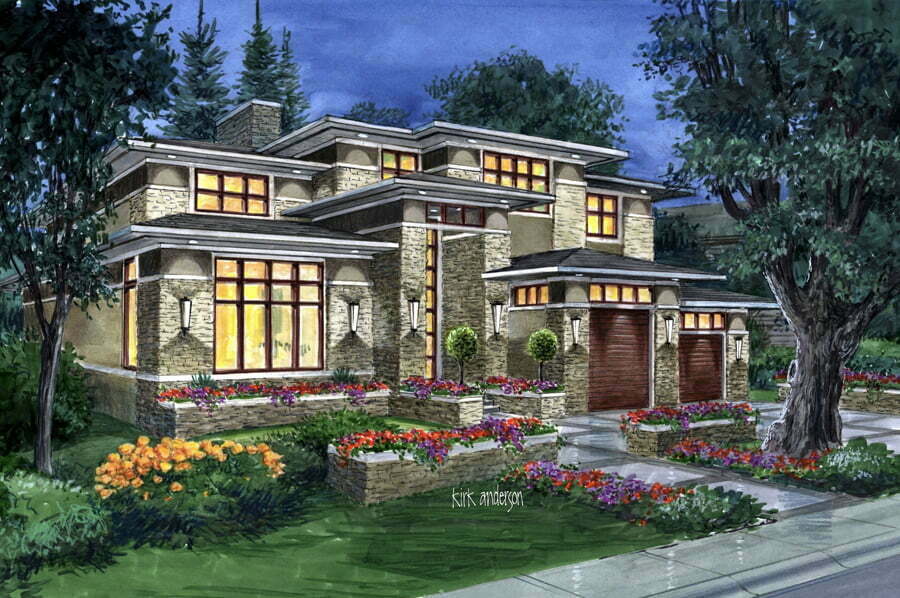 From the historic character houses of Ramsay and Crescent Heights to the spacious new builds of neighbourhoods like Sage Hill or Belmont, some people are lucky and find their perfect family home on the market, somewhere within the Calgary city limits. However, most people find a home that's almost perfect – a place that needs just a bit of work to make it complete. Often, that means the exterior of the home needs to be renovated; for some, this means just a curb-appeal update, while for others it's the entire exterior.
Let's explore the factors surrounding exterior home renovations  – from basic work to curb appeal makeovers, the investment ranges vary considerably, so let's get started!
Factors to Consider in Home Exterior Renovation Cost
Every house is different – not just inside, but all around the outside, too. The current over-arching design, as well as where you wish the final design and aesthetics to land, not only make a house a home for you and your family, but they also change the difficulty, cost, and timelines of home exterior renovations. These and other factors, like extent and materials selected, makes it hard to identify a single "average investment" for this type of renovation; they can vary widely, from $40,000-$125,000 and more – sometimes much more. These are some of the most important factors that affect the overall budget:
1. The age of the home:
Older homes tend to have idiosyncrasies that make working on them a unique adventure – but the more attention they need, the costlier the process will be in both time and dollars. For example:
Is the foundation in reasonable condition, and are the walls and roof structurally sound?

Is there hazardous material from the past, like lead pipes or paint, or asbestos siding or stucco?

 

What is the current insulation value of the walls, and is perhaps now the time to improve?
If your home is more than a few decades old and hasn't had substantial exterior renovation in that time, you may encounter one or more of these particularities.
2. Condition of the house:
Exterior rot or mould are not relegated to just older homes. In fact, some of the newer builds have had major exterior envelope failure due to lack of training and post-completion inspections – not to mention some lax building codes. Simply look at the news of 2005 when over 40,000 homes were damaged by floods; for many of them, this was envelope failure.
A proper home inspection by both a seasoned home inspector and a seasoned home builder can identify issues. Just a few years ago, we assisted a home buyer in purchasing a home which they wanted to renovate; we pointed out some issues and flagged them as suspicious problems that appeared to have been covered up just prior to putting the home on the market. The seller was later held liable for selling a home that they knew had issues and attempting to conceal it – but happily for our homeowner, the $40,000 price tag to repair two stories of wall rot was recovered.
3. Size and layout:
It goes without saying that the overall size of a house will impact the cost of exterior renovations. But the physical layout of the house and its surroundings can have much the same effect – think of terraces, walk-out basements, two-story vs bungalow design, complexity of roof systems, decks, verandas and pergolas, just to name a few. These all create significant cost variance.
4. Desired result:
While there's no single way to modernize the exterior of a house, your choice of materials, features, and ultimate design flair will dictate the final budget to a large degree. It all starts with ensuring you are working with a Design-Build firm that employs talented designers & architects; these talented professionals will direct you to the right material selections and design simplicity or complexity, which will in turn circle back to budget expectations. It's critical to work with a Design-Build team; in this way, you won't be designing out of budget, but with the builder working alongside you and the designer; both design and budgets are adhered to.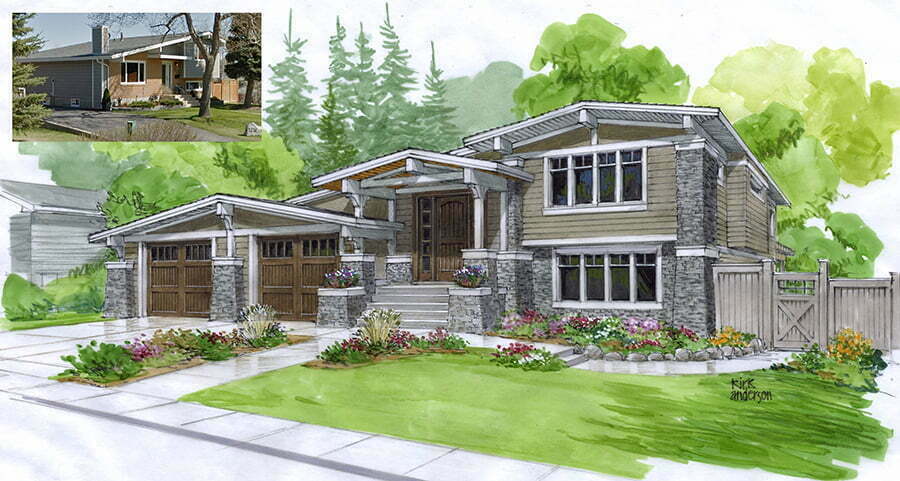 How Do You Renovate the Exterior of a House?
Have you ever wondered how to renovate the exterior of a house? There's more to it than simply removing the old façade and replacing it with something new. Creating a home that feels like home takes skill, vision, and a full understanding of your needs and wants as a homeowner.
For example, you may find that your current windows are too small and too far apart, causing the interior to feel dark and constricted. You may not like the placement of a patio, because it is too exposed to the elements all year-round. As many people do, you may dream of a wonderful place to relax; a
staycation of sorts – perhaps a large walk-out veranda or a ground-level patio with pergola, with a powered screen system from our friends at Phantom Screens to embrace more of the short summer season here in Calgary. Whatever your desire for the exterior of our home (and, by extension, the interior), it all starts with envisioning what is possible and considering the memories you will make during your time there; working with a Design-Build team is a great way to begin that journey.
In other words, the process does not start with the question, "How much does it cost to renovate the exterior of my house?", but rather, "What do I want to feel when I turn into the driveway of my home at the end of the day? How do I want to live in the newly created outdoor spaces?"
Pinnacle Group's Design Discovery
Understanding those feelings and desires for a welcoming place to live is part of the renovation process. After all, we know that our job is not to tell you what you should do; it's to listen to your dreams and goals for every inch of your space – and then find ways to make them a reality for you.
To help ensure we get the process right and deliver an exceptional end result for you and your family, we identify details in our proprietary Design, Needs, and Alignment (DNA) Document. This questionnaire is simple, but it gives invaluable insight into your priorities, expectations, and necessities, allowing us to create custom exterior renovation plans that are specifically suited to not only your home, but to you and your lifestyle in particular. Every aspect of the renovation will be created from this document, with full and transparent communication along the way so as to avoid cost overruns, ballooning timelines, and preventable mistakes. In fact, we are so confident in our process – of delivering fully on our Start dates, Completion dates, and Cost estimates – that we turned those three aspects of each project into our SCC 3-Way Guarantee. If we weren't completely confident in our ability to deliver incredible results, that guarantee would not exist; with the understanding that with Calgary's short summers, seasonal items need warm temperatures to complete. 
Home Exterior Renovation in Calgary
Whether the outside of your home gets the warm evening sun in Springbank or overlooks the rich scenery of Fish Creek Park, the escarpments in Christie Estates & Strathcona, the mountain vistas in Edgemont, or the treed backdrop in Aspen Estates, embarking on an exterior renovation should be an exciting and wonderful process, not a source of stress and worry. Our reviews show that, though we are not perfect, as a trusted Calgary home renovations company, we consistently help homeowners across the city – and southern Alberta as a whole – create inviting new aesthetics for their residences. When you are ready to pursue a new look and feel for the outside of your home, contact us with your scrapbook, magazine clippings, and dreams. We would be delighted to partner with you and assist you in bringing those dreams to life; from that first glimpse as you pull into your driveway, to the final enjoyment of witnessing an amazing sunset from your cozy outdoor space. Allow us to help you love your home…again.