Blending Rustic and Contemporary Styles in your Kitchen Renovation!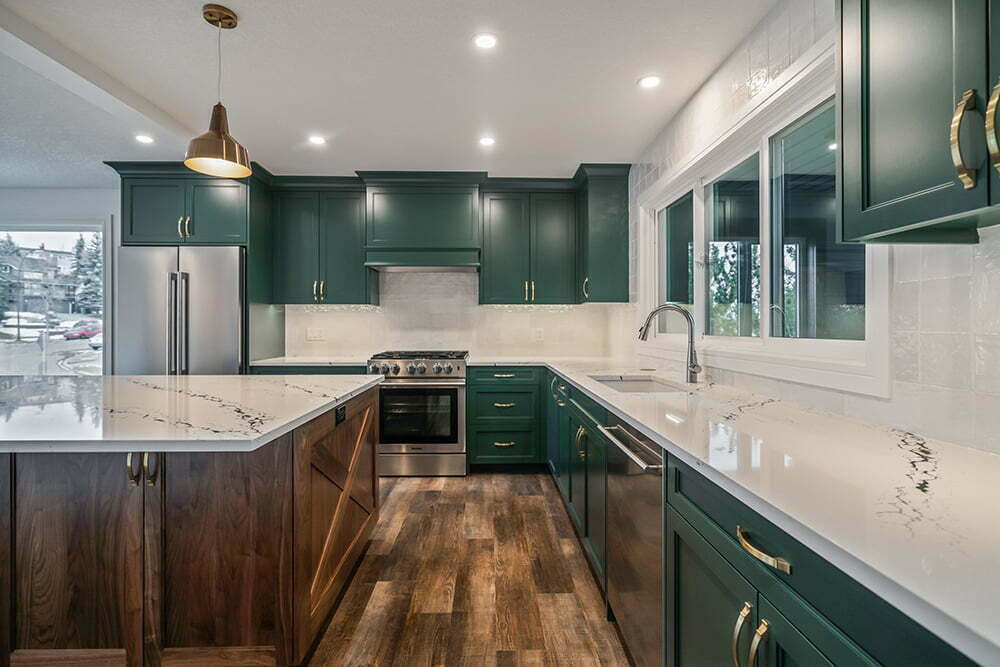 (See more of the above in Renovation Gallery 73)
Rustic and Contemporary, two unique home design styles that are so opposite, you might not realize just how well they complement each other – especially in a kitchen renovation.  This may stem from the common misconception that "rustic" means dated or old, which is simply not true.
In fact, according to Architectural Digest, "modern farmhouse" was recently among the most Googled home design styles. 
To better understand how well rustic and contemporary elements can blend together to create your dream kitchen in Calgary, Alberta, let's first explore what each design style is!
What is a Rustic Kitchen design?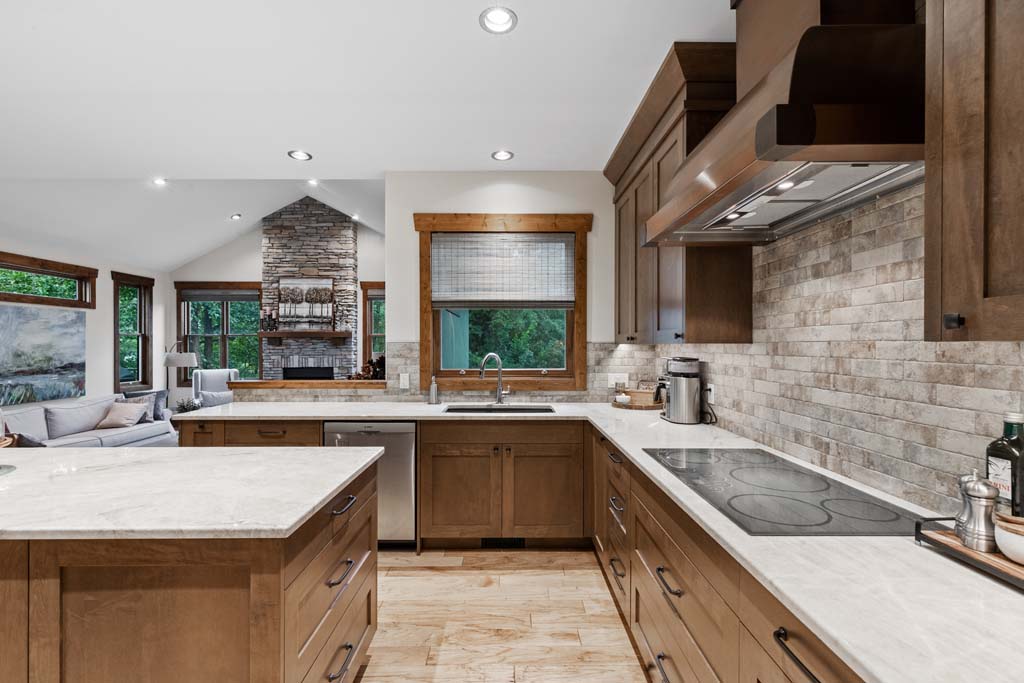 (See more of the above in Renovation Gallery 70)
Rustic is a kitchen design style that can be achieved through the use of organic, aged, and even slightly distressed items or products. 
With a growing focus on sustainability at home, and the increasingly popular trend among homeowners to "bring the outside in," it should come as no surprise that many of Pinnacle Group's Client Families are selecting more eco-friendly and sustainable products for their kitchen renovation project.
Because of the charming look that incorporating rustic characteristics such as real wood, brick and stone can create in your living space, homeowners are often combining these features with today's contemporary design trends to accomplish a more natural and welcoming environment in the heart of their home.
5 Rustic Design Ideas to Incorporate into your Kitchen Reno
Choose natural stone countertop material such as granite.
Highlight soaring exposed wooden beams.
Inquire about prairie-style cabinetry.
Select a wooden range hood cover.
Utilize open shelving.
What is a Contemporary Kitchen Design?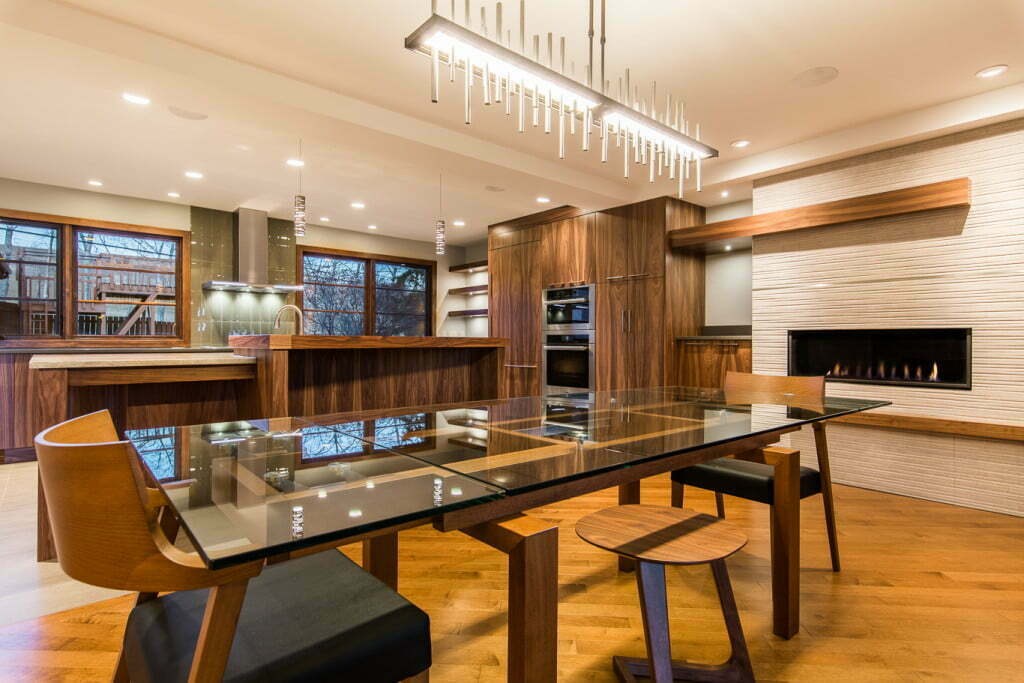 (See more of the above in Renovation Gallery 42)
The design terms "modern" and "contemporary" are often used interchangeably. While these two design styles will often share common elements, there are also a number of differences between them.
Contemporary style is established by incorporating today's current trends. A style based around what is popular at this exact moment means that design traits, such as palettes and decor, will continue to evolve as time goes on.
Today's contemporary kitchens are sleek and will often integrate a minimalist approach, with clean visible lines. These clutter-free spaces are now being created with much more than just cooking in mind. As our kitchens have emerged as the true hub of our household, other activities such as entertainment and homework are often being prioritized when reimagining this space.
5 Contemporary Ideas to Incorporate into your Kitchen Reno
Built-in or hidden appliances.
Innovative storage solutions to keep the space clutter free.
Utilize the latest kitchen technology in your appliances and features.
Go big with your new island.
Choose lighting fixtures that both illuminate and add character.
How to Seamlessly Blend Rustic and Contemporary Designs in Your Calgary Kitchen Renovation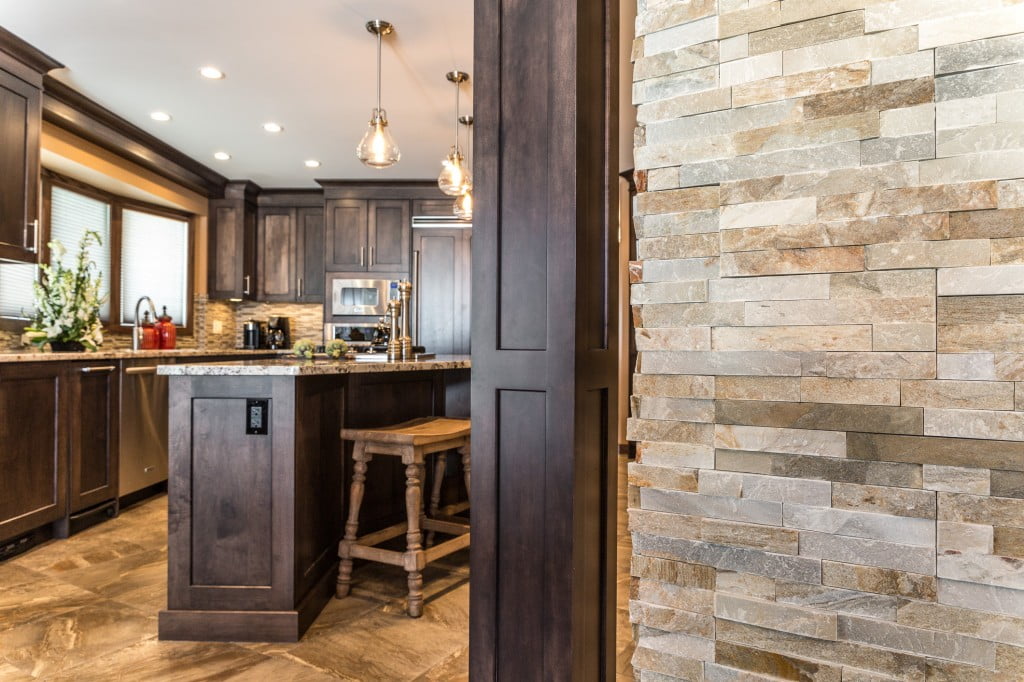 (See more of the above in Renovation Gallery 31)
If you're drawn to the clean and minimalist appeal of contemporary design, but also the charm and natural vibe of a rustic kitchen, you won't have to settle for one over the other. With the help of a Design Build Firm, like Pinnacle Group Renovations, your love for both can be fused together to create a stunning living space that you and your family can enjoy for years to come.
5 Contemporary + Rustic Design Ideas to Incorporate in Your Kitchen Reno
Blend woods and metals.
Contrast the warmth of wood with a light or dark neutral palette.
Include a rustic statement item.
Consider wide plank flooring.
Keep it simple!
Understandably, starting from scratch and piecing together elements from two separate design styles might seem overwhelming at first. Just like you wouldn't try to craft a perfect-looking, branded website design all by yourself, attempting to blend two different renovation styles together on your own may not yield the desired results. That's why reaching out to the professionals is always the best approach!
At Pinnacle Group Renovations, we understand the complexities of creating a cohesive and harmonious design. Our knowledgeable home design team is here to assist you every step of the way. We offer a range of solutions to help you focus your creativity and bring your vision to life. For example, our expert designers can create Mood Boards, which serve as excellent single reference points for your ideas and inspirations. These Mood Boards will ultimately help create a cohesive bigger picture of your future kitchen renovation.
With so much you need to know about home renovations it may be best to contact Pinnacle Group Renovations today to schedule a FREE consultation and get the ball rolling on your dream Calgary kitchen renovation in 2023!