Combining Contemporary and Traditional Kitchen Designs for your Renovation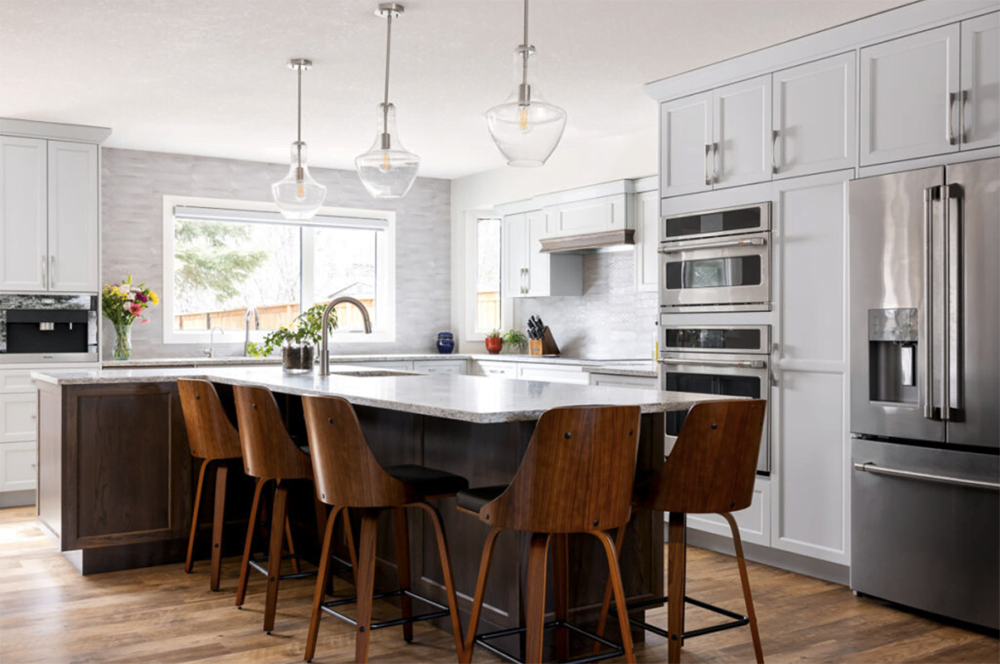 Just like every homeowner and family, no Calgary kitchen renovation is alike. Different preferences and personal needs often lead to unique customizations in each project we complete. Checking off all the boxes on a client family's wish list can result in a finished kitchen transformation that combines both contemporary and traditional design elements. Blending these two styles, contemporary and traditional, together into one clean and functional space creates what is known as a transitional kitchen.
When done correctly, pulling inspiration from two design styles, and mixing and matching your favourite features from both, is a fantastic way to reimagine your living space and produce the perfect Calgary kitchen renovation results for your family's needs!
In order to dream up a transitional kitchen of your own, it's not only important to work with a knowledgeable design-build renovation team, like Pinnacle Group Renovations, but you should also understand the difference between a traditional kitchen and a contemporary kitchen. Let's explore both, shall we!?
What defines a traditional kitchen design?
Traditional kitchen designs offer a timeless appeal, which is why many of the classic characteristics are often blended together with some of today's current or contemporary trends. Kitchens that are considered modern in 2022 will likely not look the same as the "modern" kitchens a few years from now. After all, trends are defined as being "a current style or preference" so it should be expected that popular design tastes change from time to time.
Traditional is a rather broad term, especially in the world of real estate and house renovations. Traditional kitchen designs can pull concepts from different trends that have stood the test of time.
Here are 4 traditional design characteristics that you will still recognize in many Calgary kitchen renovations today!
1) Neutral Colours
Traditional kitchens will often have a neutral colour palette throughout. For many years, homeowners have fallen in love with shades such as beige and creams, however these preferences have continued to evolve into warm whites, sophisticated greys, nature-inspired greens, earthy blues and more!
2) Natural Materials
Traditional kitchens will make use of natural materials like wood and stone to add charm and warmth to the room. Natural materials can be easily incorporated into a kitchen's design through flooring, cabinetry, countertops and backsplash.
3) Crown Moulding
Crown moulding has the ability to complement your cabinetry and complete the overall look of a kitchen. Whether you decide to use it around doorways and windows, or line the top of your kitchen cabinetry, crown moulding can bring beauty and elegance to any kitchen space.
4) Decorative Range Hood
Range hoods are an extremely functional piece of equipment in your kitchen, but that doesn't mean they can't be a real eye-catcher as well. Selecting the right range hood for your renovation offers an opportunity to add a stunning focal point to your brand-new kitchen. 
What defines a contemporary kitchen design?
Contemporary kitchens take advantage of today's latest design trends, while incorporating modern architecture, sleek lines and the latest technology throughout. Minimalism is key to creating a successful contemporary design, so a less is more approach is quite common in this style of kitchen.
Here are 5 common contemporary design elements that you will find in Calgary kitchen renovations:
1) Colours
A contemporary kitchen can also utilize a neutral palette, however unlike traditional colour schemes, bold accents and splashes of personality are added by way of paint and accessories. 
2) Man-made Materials
Contemporary kitchens will make use of man-made materials like metal, plastic and concrete to help establish their more modern and sleek appearance.
3) Hardware
Decorative hardware for contemporary kitchen cabinetry can come in a variety of materials and finishes. Whether you choose matte black or polished brass products, it is important to find hardware that compliments the sleek lines and flat-panel cabinetry of a contemporary kitchen.  
4) Technology
Renovating your kitchen gives you a fresh opportunity to swap out older equipment and appliances with the latest in smart and eco-friendly technology. From touchless kitchen faucets to refrigerators that can act as a digital hub for families and detect when contents are running low, contemporary kitchen designs are all about incorporating today's latest and greatest to help with both overall productivity and energy conservation. 
5) Lighting
Contemporary kitchen designs often focus on creating an abundance of light to help us with the wide range of tasks we now complete in this multi-purpose room. Contemporary kitchens will contain a variety of lighting solutions such as recessed ceiling lights, under cabinetry lighting, and stylish pendant lighting hanging above an over-sized kitchen island. 
While contemporary and traditional kitchens can be quite different from one another, blending their characteristics together offers Calgary homeowners a fun and creative opportunity to design the perfect kitchen for their current needs and tastes. A transitional kitchen breaks free from traditional design restrictions and allows families to think outside the box for a completely custom kitchen renovation.
If you would like to speak with our experienced team about bringing your own kitchen renovation dreams to life, we would be happy to offer you a free comprehensive design consultation. If you would like to work with us and create your own mood board to guide your design, that would be great too!  Through a Pinnacle Group Renovations kitchen design consultation, we can help you prepare for budgets through a professional assessment of your home and lifestyle needs