The Newest Bathroom Ideas and Trends in 2023

Calgary Bathrooms continue to be among one of the more popular rooms homeowners choose to renovate. Not only does refreshing an outdated bathroom often offer a high ROI, but a thoughtfully designed space can also provide a rejuvenating spa-like retreat for you to unwind and recharge at the start or end of a busy day, ultimately enhancing your overall quality of life at home.
As we move further along into 2023, bathroom ideas and design trends continue to evolve with new ideas and styles. If you're considering a bathroom renovation in your Calgary, Alberta home this year, it's essential to know what's on-trend to ensure that your space is not only functional, but also stylish and contemporary.
That said, here are 6 Bathroom Ideas and Trends every prospective home buyer and renovator are screaming for this year!
Using Quality Materials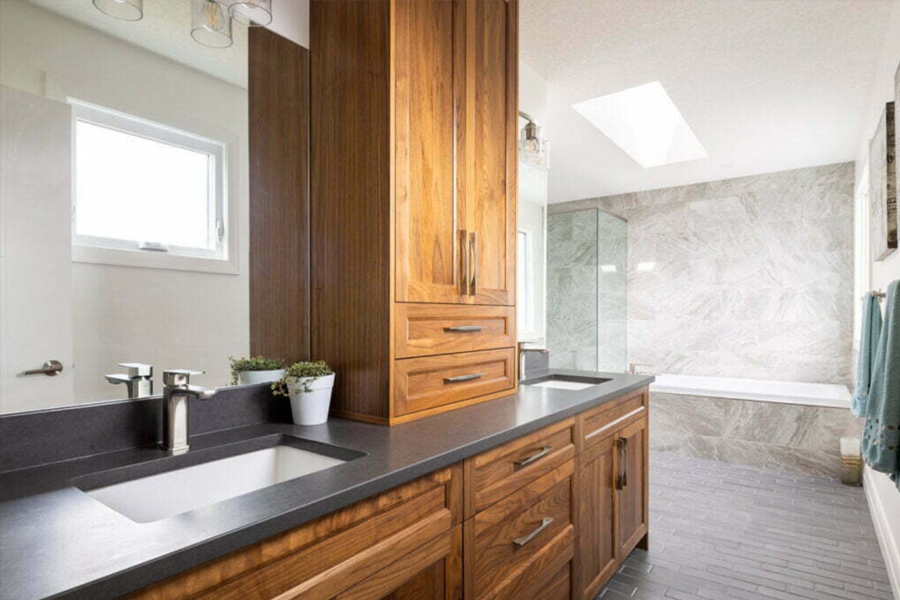 (See more of the above in Renovation Gallery 74)
In our opinion, the use of quality materials for any renovation project will never go out of style for several reasons.
Firstly, high-quality materials are more durable and longer-lasting than cheaper, lower-quality products. This means that making the initial investment in quality materials will pay off over time, as they require less maintenance and replacement, ultimately saving homeowners money in the long run.
Secondly, renovating a bathroom with high-quality materials and fixtures will have a better chance of adding to the overall value of the property. This is particularly beneficial for homeowners who may want to sell their home in the future, because a well-designed and well-executed bathroom renovation can be a major selling feature for potential buyers.
Lastly, quality materials are often more aesthetically pleasing and can create a more luxurious and upscale feel in a bathroom.
Elevating Your Bathroom Aesthetics with Tiles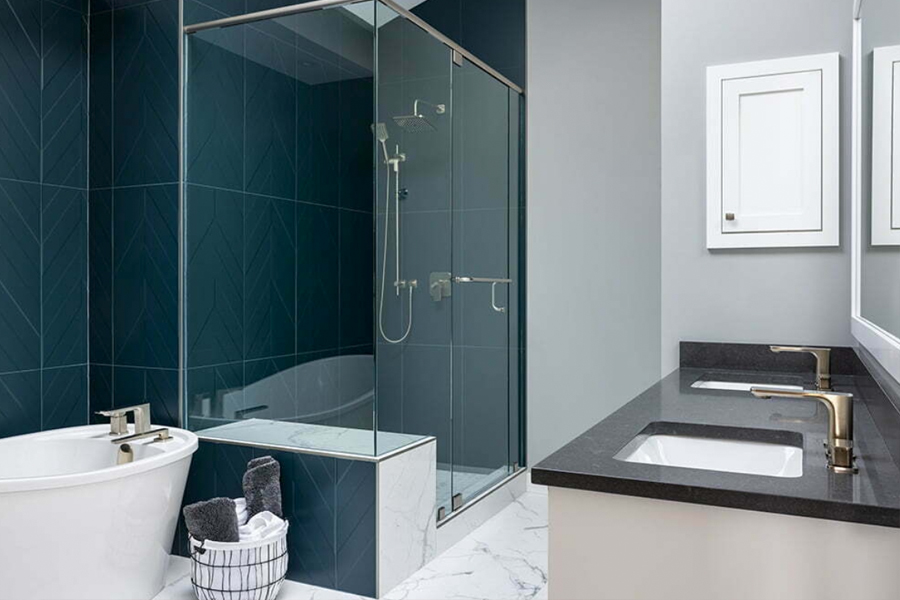 (See more of the above in Renovation Gallery 77)
With the right selection, tiles can help set the mood and create a particular ambiance in your bathroom that enhances the overall aesthetic.
For example, if you want to create a calming and relaxing space, choosing cooling or earthy tones can help you achieve a spa-like atmosphere. The use of subtle patterns or textures can further enhance the soothing effect.
Alternatively, if you want to create a vibrant and energizing space, bold and colorful tiles can be the perfect choice. Tiles in bright shades of blue, green, or red can create an energizing atmosphere, while geometric patterns or mosaic tiles can add a spark of visual interest to the space.
Freestanding Tubs Are All The Rage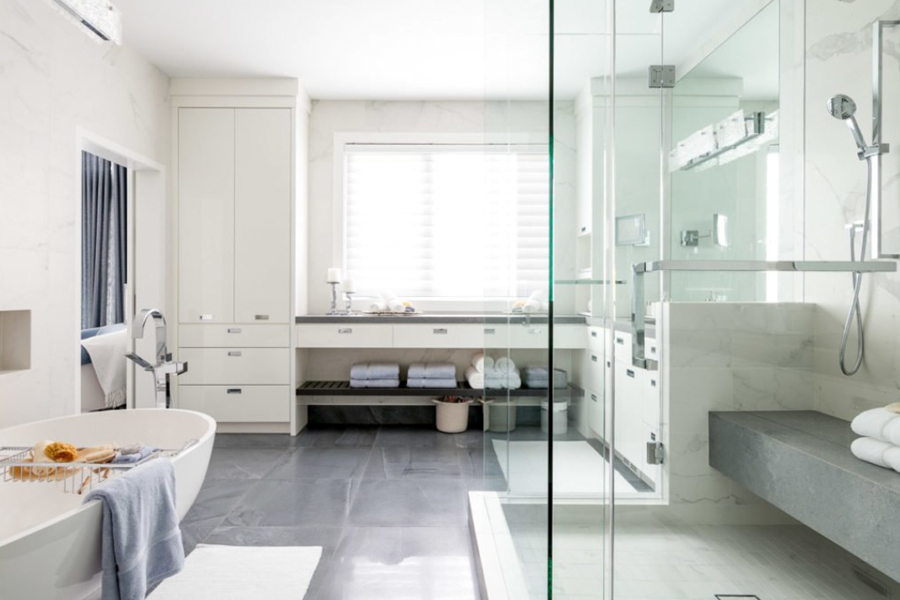 (See more of the above in Renovation Gallery 62)
Freestanding soaker tubs continue to be a popular trend in bathroom renovations, and it's easy to see why. Not only do they provide a luxurious and spa-like feel to a bathroom, but they can also serve as a statement piece and can become the focal point of your space.
There are a variety of tub styles and materials available to choose from. From modern and sleek designs to more traditional styles, there is a freestanding tub to fit any aesthetic and design goal.
Making a Statement with Lighting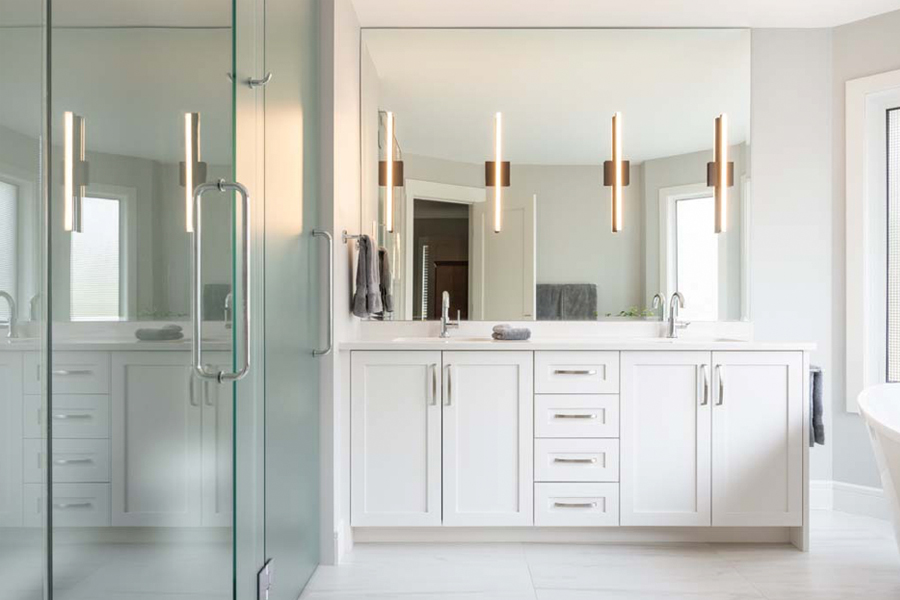 (See more of the above in Renovation Gallery 71)
Unique lighting fixtures, such as chandeliers, pendants and sconces, are becoming increasingly popular in today's Calgary bathroom designs.
When selecting statement lighting for your bathroom renovation, it's important to consider the overall aesthetic and design of the space. Lighting should complement and enhance the other elements in the room, such as tile and fixtures, and create a cohesive and visually appealing look.
In addition, the use of LED lighting is becoming more widespread, allowing homeowners to set the mood and customize the ambiance in their bathroom.
Getting Creative with Wallpaper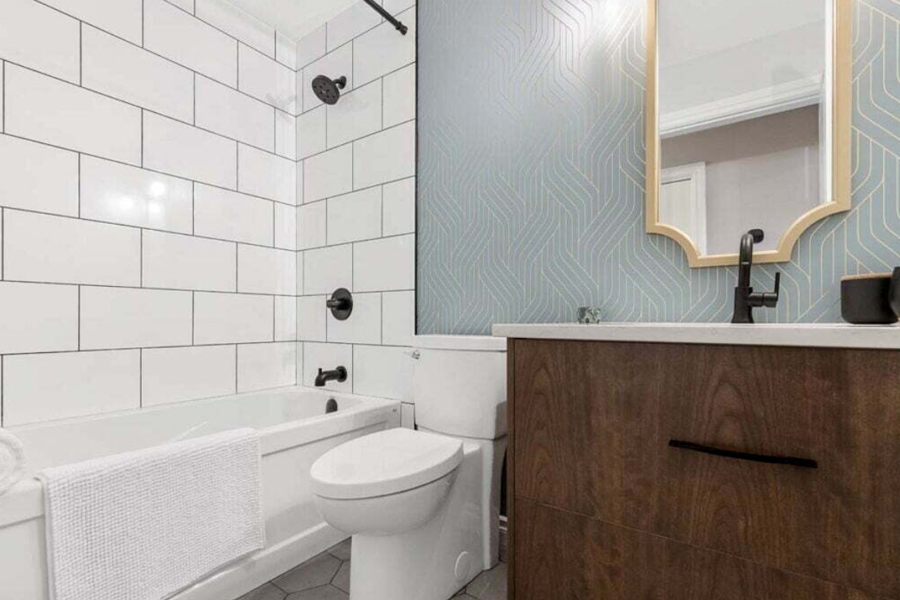 (See more of the above in Renovation Gallery 63)
Recently, wallpaper has been making a comeback in bathroom renovations because it has the ability to add texture and depth to the room that paint alone simply cannot match.
A major advantage of using wallpaper in a bathroom is the variety of options available. From bold, graphic prints to subtle and delicate patterns, there is a wallpaper design to fit whatever look you're going for. Additionally, wallpaper can also be used to create a cohesive and coordinated look in a bathroom, by complimenting the other design elements such as tiles, paint colours and personal décor choices.
Planning for the Future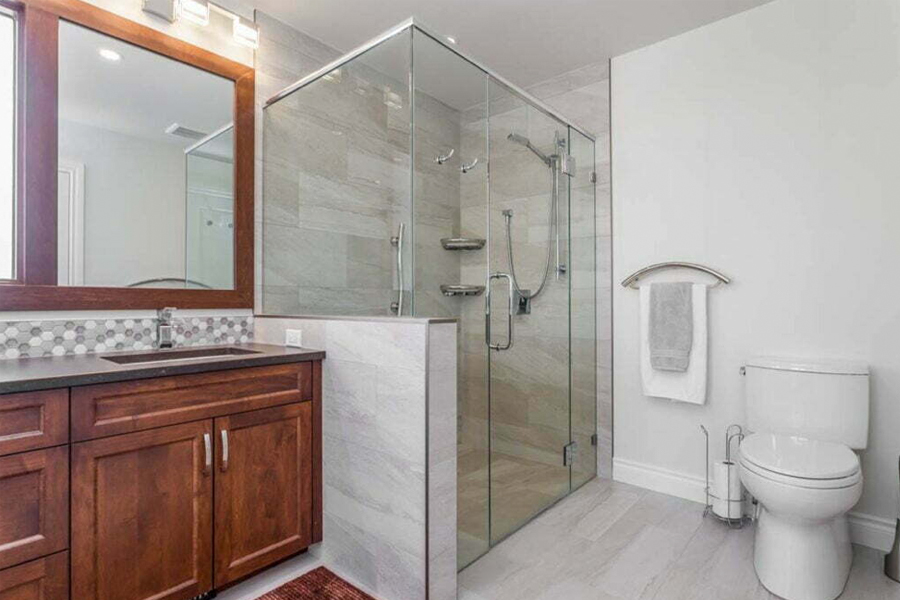 (See more of the above in Renovation Gallery 64)
For homeowners who plan to remain in their homes for many years to come, it's important to consider how a bathroom can be designed for aging in place, to help ensure a safe and comfortable space as you grow older.
For example, one element that is becoming increasingly popular in bathroom renovations for homeowners of all ages is a curbless shower entry. By eliminating the traditional raised edge of a shower, a curbless entry allows for a seamless transition into the shower which can reduce the risk of tripping and falling now, while also helping with any future needs for a more accessible space.
When planning a bathroom renovation with aging in place in mind, it's important to work with a team of professionals, like Pinnacle Group Renovations, who has experience in this area. Our MyLifetimeHome™ division is aimed at guiding homeowners through the process of selecting and incorporating the right design elements to ensure safety and accessibility, while still creating a visually appealing and functional space.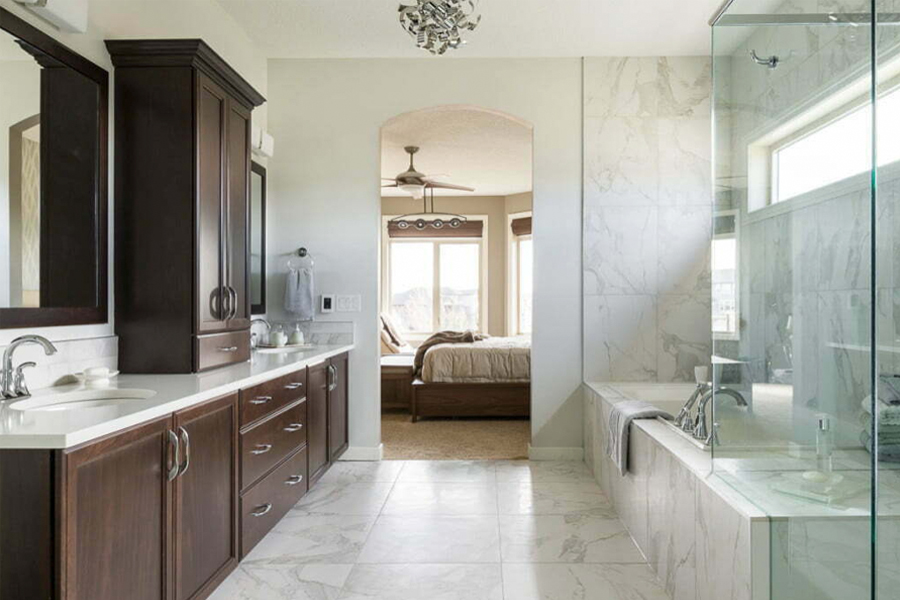 (See more of the above in Renovation Gallery 52)
At Pinnacle Group Renovations, we are a design-build firm, meaning we handle every aspect of your home renovations or bathroom renovation project from start to finish. Our team will work closely with you to better understand your unique needs and preferences, and use our expertise to help you bring your dream bathroom to life. Whether you're simply after the latest bathroom renovation ideas or you're in need of specific accessibility upgrades to make life at home safer and easier, we have the experience to make it happen. Our team is made up of professionals from all aspects of the renovation industry, including designers and builders, and we are committed to delivering quality craftsmanship and exceptional customer service on every project.